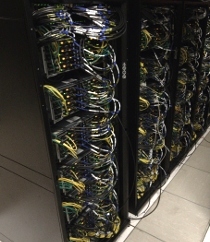 Dennis Lee Carter
In two words and five musical notes, Dennis Lee Carter helped make Intel microprocessors, like those in the Carter Community Cluster, a familiar and trusted brand, not just among engineers but also among computer-buying consumers around the world. In turn, that helped spur the widespread adoption of personal computers and all that followed it.
Carter, who earned his master's degree in electrical engineering from Purdue in 1974, is credited with creating and implementing the internationally recognized "Intel Inside" campaign. The effort developed brand awareness of the microprocessor as the key ingredient in a personal computer. It also put Intel's logo on the outside of the vast majority of the world's PCs and made its five-note jingle one of the most recognizable tunes on television.
As the market changed with the dawn of the PC era, Carter, who was also an instructor of electrical engineering technology while at Purdue, saw the need for Intel to begin talking to a broad audience beyond the design engineers who had been its traditional focus. He developed an innovative cooperative advertising program in which Intel shared the cost with computer manufacturers to promote its microprocessors as the "computer inside the computer." He also worked with Intel President Andy Grove to create the iconic Pentium brand name.
A native of Louisville, Kentucky, Carter joined Intel in 1981 and from 1985 to 1989 served as technical assistant to the president. He progressed from marketing manager for the End-User Marketing Group to general manager of the End-User Components Division to director of marketing. In 1992, he was recognized for his accomplishments by being elected a vice president of Intel.
Before joining Intel, Carter was an engineering manager at Rockwell International responsible for product design of collision avoidance avionics systems and also helped develop the first microprocessor-based radar altimeters. He holds several patents, among other things, for radio frequency (RF) antenna designs.
Carter earned bachelor's degrees in electrical engineering and physics from Rose Hulman Institute of Technology in Terre Haute, Ind. He received his MBA from Harvard University in 1981. In 2003, he earned a master's in astronomy from Swinburne University of Technology in Melbourne, Australia.