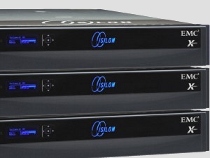 Persistent Group Storage Overview
ITaP Research Computing offered shared research group storage available from all research clusters or directly usable from labs at a competitive price. It was retired in 2014.
ITaP served Persistent Group Storage from EMC Isilon network attached storage (NAS) servers with a total capacity of 3 PB. This storage was redundant and reliable, featured nightly snapshots for the last week, and was globally available on all ITaP research systems. Persistent Group Storage was medium-performance, non-purged space suitable for tasks such as sharing data, editing files, developing and building software, and many other uses.