The Rosen Center for Advanced Computing (RCAC) is seeking students for Research Experiences for Undergraduates (REU) paid internships for an 11 week onsite summer REU program. This program aims at developing the next generation workforce in advanced computing and cyberinfrastructure technologies. It offers students from diverse backgrounds, the opportunity to gain the knowledge and skills necessary to build and support advanced research computing systems and scientific applications. Modeled after the RCAC's decade long successful student apprentice program, the REU students will learn by doing, working on the National Science Foundation funded Anvil system in a team environment and mentored by cyberinfrastructure professionals.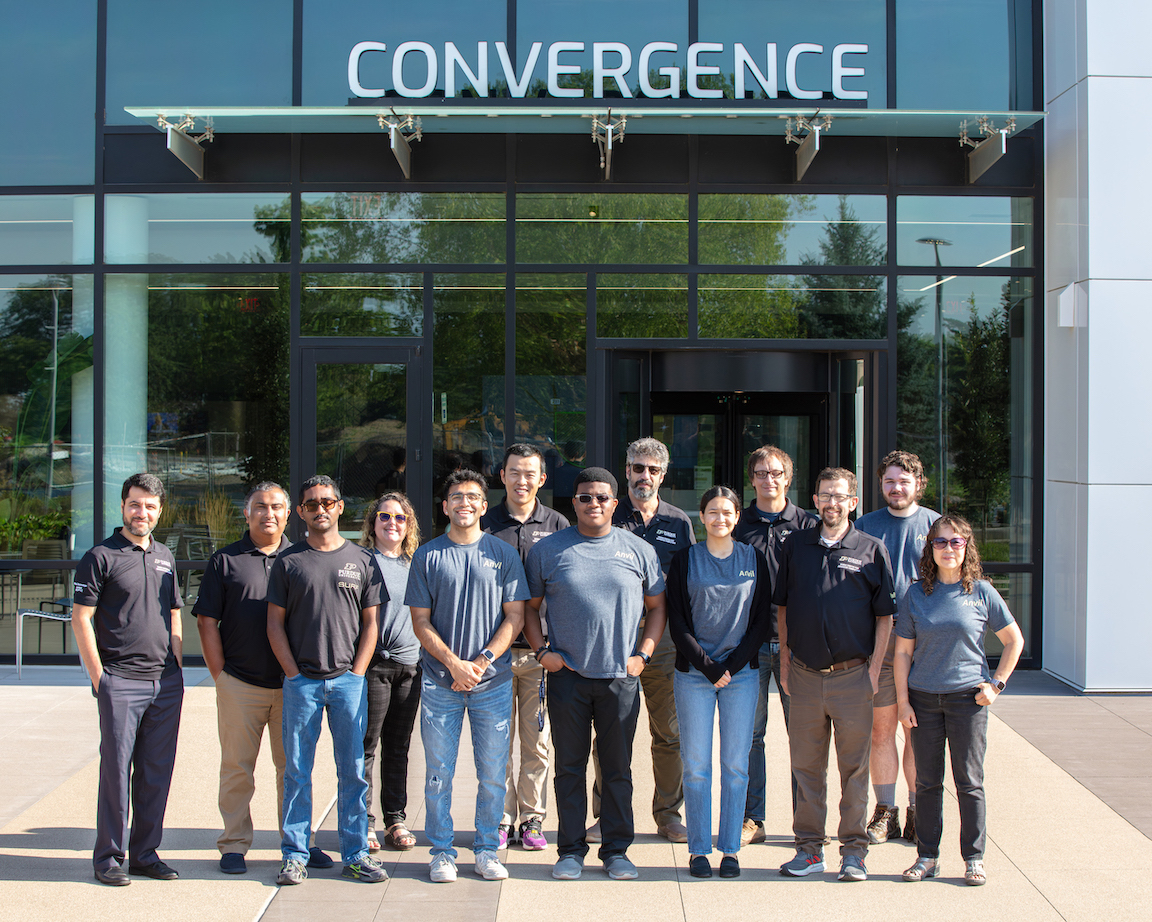 Open to undergraduate students from all backgrounds. Each student will present their work to Purdue staff, faculty, and researchers at the end of the program, and may present at a national conference as part of the program. This onsite program at Purdue University in West Lafayette, Indiana runs from May through August.
Application Requirements
Applications will be accepted until February 16, 2024.
Applicants must be a U.S. Citizen, U.S. National, or permanent resident of the U.S.
Applicants must be currently enrolled in an undergraduate program.
Applicants must be able to work onsite for the entirty of the REU program (May 19 - August 4, 2024)
Questions should be directed to anvil@purdue.edu.
APPLICATION WINDOW CLOSED for 2023
Please check back at the end of 2023 for information on the summer 2024 program
Projects - Summer 2024
In each research project students will work closely with professional RCAC staff members. The projects will be in a wide variety of areas, including data analytics and visulization, high performance computing (HPC), software development, and artificial intelligence (AI).
Visit the REU projects page to see previous years projects.
Program Highlights
Stipend & Housing
The REU projects spand an 11-week period from May through August. The eight undergraduate students will work on-site at Purdue University in West Lafayette, Indian for the duration of the program. These students will work 40 hours per week, receiving a stipend of $600/week. In addition to the stipend, housing at a University Residence Hall and travel costs to attend a conference such as Super Computing 23 or PEARC 23 are provided.
Social/Networking Programs (2023)
May
May 22
SURF Orientation
Anvil/ Data Center Tour for Anvil REU students
Hands-on training with REU's & Mentors
May 23
May 30
Walking tour of Campus
Nuclear reactor / Birck / Airport / Zucrow
June
June 2
June 7
Presentation on Data Visualization, Vetria L. Byrd
June 9
Presentation on Cybersecurity, CERIAS
June 13
SURF Technical Abstract Workshop
June 15
Presentation on Virtual Reality & Simulation, George Takahashi
June 26
1 on 1 - Anvil Exe Team Member & REU
July
July 14
Presentation Anvil Exe TeamMember & Lunch
July 17
SURF Preparing for the Symposium
July 18
SURF Effective Technical Communication Workshop
July 21
SURF Practice Presentations
July 22-27
PEARC23 Student Program/Conference
July 28
SURF Symposium - Project/Poster Presentations
August
August 2
SURF Award Ceremony & Wrap Up Event
August 4
Student Presentations And/Or Poster Sessions
The REU students will make presentations on their work. At the end of the program, we have a symposium at which time each student gives a presentation with a poster or recorded slide deck to which other students, Anvil staff, RCAC staff, and key people from across and outside of the University are invited. These talks will describe the project the REU undertook, outcomes, and plans or suggestions for the future.
Conferences & Publications
In recent years many students from Purdue have given presentations at HPC and/or research conferences (e.g. Super Computing (SC) or PEARC). We encourage the REU students to present their work at these and other undergraduate conferences, and provide funding to support this. Additionally, many of our students publish papers in collaboration with their mentors on the projects they have completed.
Ongoing research
Where possible, students are encouraged to continue work on their projects after the end of the formal program. This is accomplished through visits to Purdue, collaboration through the internet, and work at the student's home institution. Funding maybe available to sponsor these activities.
Nondiscrimination Policy Statement
Purdue University prohibits discrimination against any member of the University community on the basis of race, religion, color, sex, age, national origin or ancestry, genetic information, marital status, parental status, sexual orientation, gender identity and expression, disability, or status as a veteran. The University will conduct its programs, services and activities consistent with applicable federal, state and local laws, regulations and orders and in conformance with the procedures and limitations as set forth in Purdue's Equal Opportunity, Equal Access and Affirmative Action policy which provides specific contractual rights and remedies. Additionally, the University promotes the full realization of equal employment opportunity for women, minorities, persons with disabilities and veterans through its affirmative action program. View a more complete statement of Purdue's policies of equal access and equal opportunity. If you have any questions or concerns regarding these policies, please contact the Office of the Vice President for Ethics and Compliance at vpec@purdue.edu or 765-494-5830.
---