Purdue to have major presence at international supercomputing conference
Purdue's Rosen Center for Advanced Computing (RCAC) will once again have a booth at this year's SC22 Supercomputing conference, happening in Dallas, Texas from Nov. 13-18.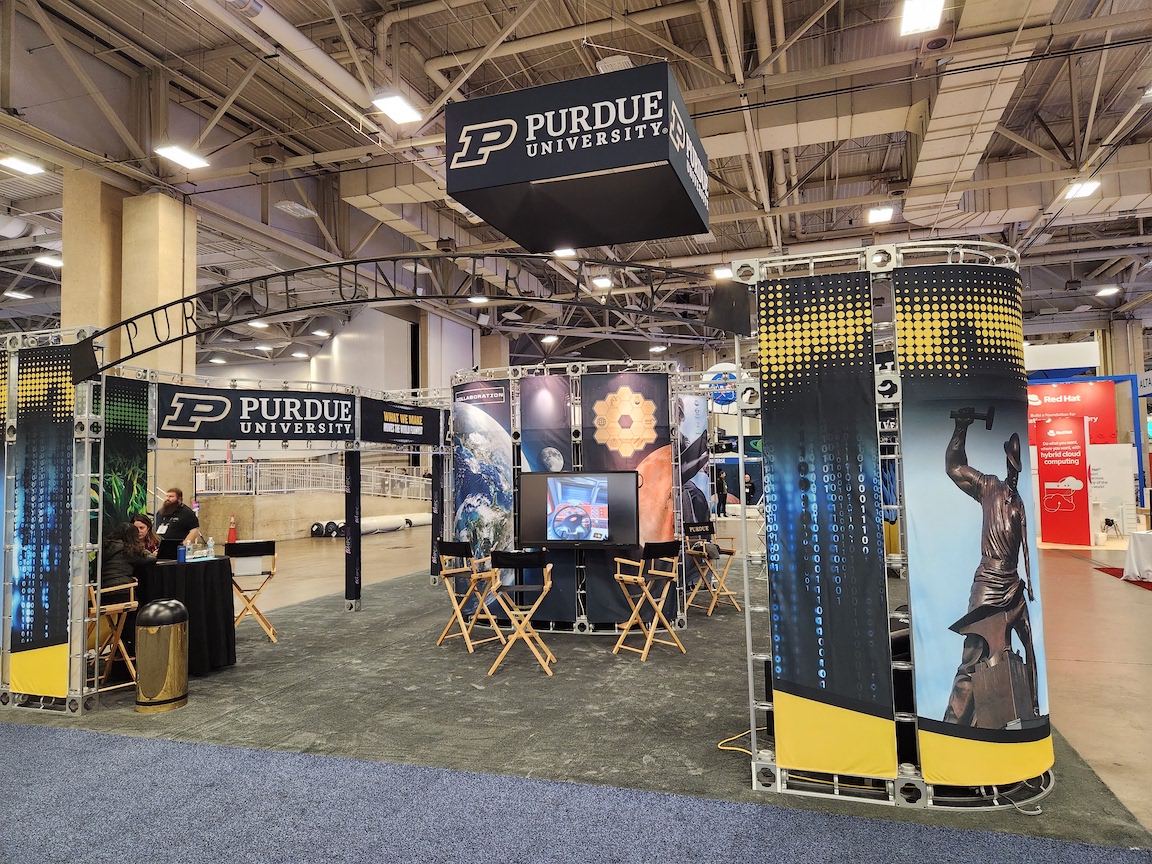 Gerhard Klimeck, professor of electrical and computer engineering and long-time RCAC faculty partner, will speak in the Purdue booth (#3442) at 1 p.m. CST on Tuesday, Nov. 15 about "Advancing Computing in Scientific Gateways: Demonstrating New Paradigms in Research, Education and Publishing."
Wednesday will be a busy day in the Purdue booth with five different talks. Shawn Rice, lead computational scientist for RCAC, will get things started at 10:30 a.m. CST with a talk about the Halcyon platform for unified HPC center operations.
At 11 a.m. CST, lead computational scientist Erik Gough will talk about composable platforms for scientific computing, followed by a 2 p.m. talk from RCAC chief scientist Carol Song about how RCAC's powerful Anvil supercomputer is forging the future of computing.
At 2:30 pm, Song and Envision Center lead visualization scientist George Takahashi will talk about Research Software Engineering and the RSE services that RCAC offers. The Wednesday talks will conclude with a talk at 3:30 p.m. from RCAC executive director Preston Smith and Doug Jennewein of Arizona State University about quantum computing and Purdue's role in ASU's new Quantum Collaborative.
Arcastream will give a talk in the Purdue booth titled "Kalray - Empowering Research Storage with Purdue" at 1 p.m. CST on Thursday, Nov. 17.
Purdue's team in this year's Student Cluster Competition is joint with Indiana University, and includes three undergraduates from each school. The team is known as INpack, a reference to the team's Indiana roots and the HPC benchmarking program, and is led by Gough and co-advised by Betsy Hillery, director of high-performance computing for RCAC.
If you're attending SC22, make sure to stop by booth #3442 to learn more about Purdue's research computing offerings, including Anvil, the Envision Center, quantum computing and more. Anvil challenge coins are available to take home.
Follow along on Twitter for updates from the conference.