George Takahashi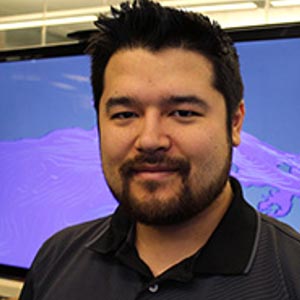 Lead Visualization Scientist
George joined RCAC in 2011, after completing his masters in technology with a focus on binocular vision and perception. He has an academic background in immersive graphics and spends his time working with faculty and students on virtual/augmented reality simulations, data visualizations, and multimedia.
Education
B.S., Computer Graphics Technology, Purdue University (2009).
M.S., Technology, Purdue University (2011).
Selected Publications
Milisavljevic, D., Sumner, A., Takahashi, G., Martin, T., Drissen, L., & Law, C. J. (2021). Visualization and Collaborative Exploration of Complex Multi-dimensional Data Among Distant Individuals using Virtual Reality. In American Astronomical Society Meeting Abstracts (Vol. 53, No. 1, pp. 541-11).
McGraw, J., Zhang, W., Luginbuhl, A. D., Takahashi, G., Tasker, R. F., & Chopra, G. (2018). Virtual reality environment to visualize and manipulate molecular structures. Biophysical Journal, 114(3), 184a.
Chandramouli, M., Takahashi, G., & Bertoline, G. R. (2014). Desktop VR centered project based learning in ET courses using a low-cost portable VR system. In 2014 ASEE Annual Conference & Exposition (pp. 24-381).
Bowen, G. J., Liu, Z., Vander Zanden, H. B., Zhao, L., & Takahashi, G. (2014). Geographic assignment with stable isotopes in IsoMAP. Methods in Ecology and Evolution, 5(3), 201-206.
Takahashi, G., & Connolly, P. (2012). Impact of binocular vision on the perception of geometric shapes in spatial ability testing. In 67th midyear meeting proceedings, Limerick, Ireland.
Bowen, G. J., West, J. B., Zhao, L., Takahashi, G., Miller, C., & Zhang, T. (2012). Cyberinfrastructure for isotope analysis and modeling. Eos, Transactions American Geophysical Union, 93(19), 185-187.