Purdue, IU team up for student supercomputing competition
For the first time ever, Purdue students have teamed up with their counterparts at Indiana University to showcase their supercomputer building skills, and work hands-on with high performance computing (HPC) and scientific computing.
The joint Purdue-IU team competed at the Student Cluster Competition (SCC) at SC22, an international supercomputing conference that took place in Dallas, Tex. from Nov. 13 to 18. The SCC challenges student teams to build their own mini-supercomputer and use it to accomplish real science during the 48-hour competition, all while staying under a specified power limit.
The Purdue-IU team, known as 'INpack', a reference to their shared Indiana connection and the HPC benchmarking software LINPACK, was advised by Erik Gough, lead computational scientist for the Rosen Center for Advanced Computing (RCAC) in collaboration with other RCAC and IU staff, including Betsy Hillery, director of high-performance computing for RCAC, and Winona Snapp-Childs, chief operating officer for the IU Pervasive Technology Institute.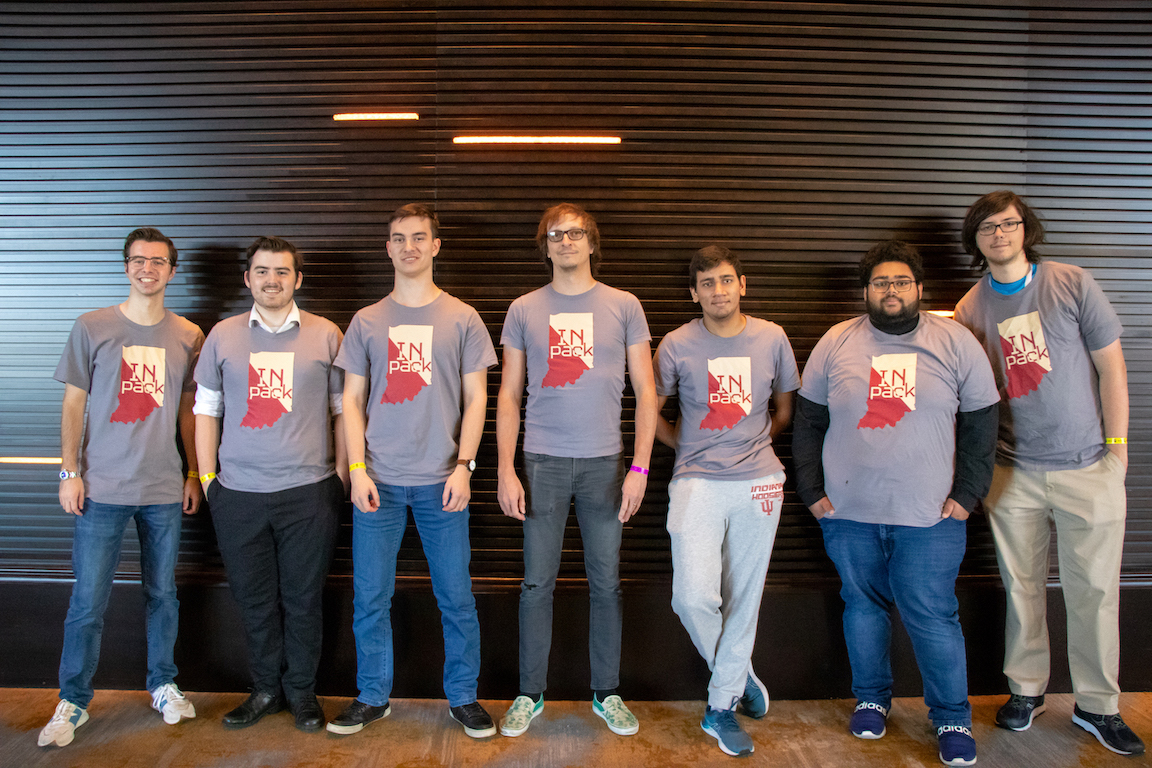 "Our advisors have been monumental in helping us set realistic goals and timelines for ourselves," said team member Karl Oversteyns, a junior in unmanned aerial systems from Purdue.
Along with Oversteyns, this year's participants from Purdue are Larkin Nickle, a senior in computer and information technology, and Dhruv Sujatha, a sophomore in computer science and data science. The participants from IU are Lucas Snyder and Nrushad Joshi, both juniors in intelligent systems engineering, and Zachary Graber, a senior in computer science.
INpack spent months preparing for the competition in which they created a small cluster, learned about scientific applications, and implemented optimization strategies for their chosen architectures.
Since this is the first time Purdue and IU have collaborated to participate in SCC, the teams have been coordinating virtually and dividing the tasks systematically.
"We took on the hardware, and the IUers took on software," said Oversteyns. "The collaboration has been a good time. Naturally, resisting the urge to take playful jabs at one another is a challenge in itself."
"Students have been practicing compiling and running applications on Anvil and IU's Jetstream cloud resource, attending webinars on the benchmarks and applications for the competition," said Gough. "Three of the team members participated in an Anvil REU program this summer which helped them get familiar with HPC concepts."
The annual SC conference welcomes more than 10,000 attendees from all over the world. Purdue has fielded a team in the Student Cluster Competition almost every year since the competition's inception in 2007. Purdue SCC team alumni have gone onto jobs at premier technology companies, national labs, and academic HPC centers, including Purdue RCAC.
Learn more about the competition and the Purdue-IU team. Watch two INpack team members discuss their SCC experience in this video.