RCAC adds GPUs to cluster as part of broader investment in AI research
As part of a push to expand GPU computing capabilities to meet the needs of researchers working in AI, machine learning, and accelerated modeling and simulation, the Rosen Center for Advanced Computing (RCAC) has recently added 93 new NVIDIA A10, A30, and A100 GPUs to the Gilbreth community cluster, and has changed the pricing structure to provide more value to researchers. This expansion increases the number of available GPUs on Gilbreth by 40% from last year.
GPUs are now offered under a similar pricing model as CPU-based community cluster systems, meaning researchers can choose between purchasing per-GPU units through either a one-time five-year charge or an annual subscription. The economies of scale of community clusters allow Gilbreth GPUs to be priced more competitively than do-it-yourself GPU solutions, and the existing inventory allows for immediate access to nodes without a lengthy procurement process.
Researchers will have a queue specific to their lab as on other community clusters and will also have standby access to unused nodes. Access to Gilbreth can be purchased through the RCAC cluster orders website.
Rosen Center Executive Director Preston Smith describes the value of this investment in GPUs to the institution, "Years ago the community cluster model created a way to minimize do-it-yourself clustering and build world-class cyberinfrastructure for Purdue faculty. Bringing to bear our experiences and investment in community clusters to GPUs will allow Purdue to provide the most cost-effective solutions for AI, while minimizing risk and costs to Purdue, maximizing utilization, and allowing researchers to focus on their science rather than procuring and operating AI computing solutions themselves."
The recently added Gilbreth GPUs are just the first of several planned expansions designed to meet the high campus demand, with more GPUs coming online in early 2023. Along with the extra hardware, RCAC will be hiring a full-time research scientist with AI and machine learning expertise, who will deliver new training opportunities and be available to partner with faculty on proposals.
The addition of new GPUs to Gilbreth adds the capability to perform 2.6 quadrillion mathematical operations per second – a standard laptop would need to run for 8 hours to compute what Gilbreth can compute in less than a second.
Gilbreth's total capacity is now 219 GPUs, providing 4 petaflops of single-precision capacity, a significant boost from its previous capacity of 2.1 petaflops. The diversity of GPU hardware on Gilbreth is not only suitable for AI research but also provides a much-needed boost for other disciplines benefitting from accelerated computing such as chemical engineering, mechanical engineering, agronomy, and life sciences. In the past, Gilbreth has been used for making ground-breaking innovations such as predicting coronavirus proteins, analyzing malaria variants, describing complex catalyst surfaces, and developing state-of-the-art AI algorithms, among others.
Dr. Wen Jiang, Purdue professor of biochemistry and scientific director of Purdue's Cryo-EM Facility is looking forward to the enhanced capability, "GPU computing has in recent years become an essential need for cryo-EM image processing and the determination of the structures of viruses, protein complexes, and amyloids, and helps us better understand the structural basis of numerous biological processes, infections, and diseases. The expansion of the RCAC GPU cluster will provide much-needed computing power for our cryo-EM studies."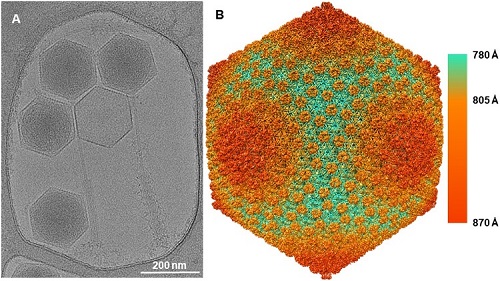 Image caption: Bacteriophage structures
Smith added, "Our goal for this investment is for Purdue faculty to have all the resources that they need ready to go to deliver their AI-aided projects, and successfully compete for new ones"
The new GPUs are funded by support from ITaP and the Office of the Executive Vice President for Research and Partnerships.
Please visit Gilbreth Queue Changes for further information on the changes made to support the new architecture.
To learn more about Gilbreth or other Research Computing resources, contact rcac-help@purdue.edu.