Negishi community cluster supercomputer dedicated in ceremony featuring campus leaders, Negishi family
The Rosen Center for Advanced Computing (RCAC)'s newest community cluster Negishi, named in honor of distinguished professor of chemistry and Nobel laureate Ei-ichi Negishi, was dedicated Friday afternoon in a ceremony including Negishi's daughters and their families.
The ceremony included a welcome from Preston Smith, executive director of RCAC, and remarks from Ian Hyatt, Purdue chief information officer, Purdue President Mung Chiang, Jean Chmielewski, distinguished professor of chemistry and interim dean of the College of Science, Gerhard Klimeck, professor of electrical and computer engineering, Patrick Wolfe, provost and executive vice president for academic affairs and diversity, and Charlotte East, Negishi's daughter.
President Chiang spoke about how Purdue faculty will benefit from the Negishi community cluster, which is the largest and most powerful cluster Purdue has built other than the NSF-funded Anvil system. Provost Wolfe added that just as Ei-ichi Negishi helped set a new standard for Purdue, his namesake cluster will help set Purdue apart from other universities and attract top talent.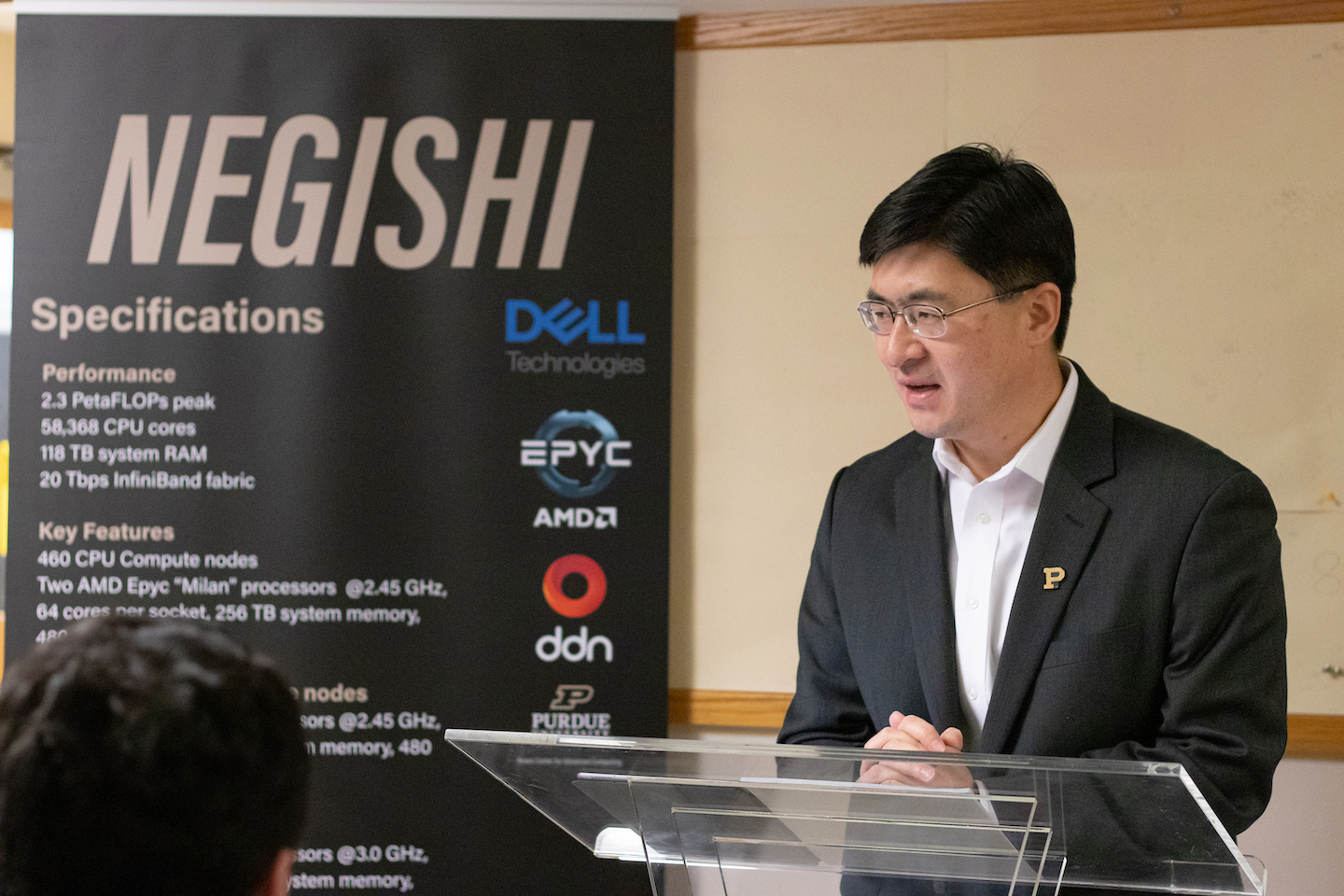 Dean Chmielewski commented on Negishi's dedication to mentorship, including sharing her own memories of being welcomed and supported by him as an early career faculty member.
East expressed the family's gratitude for the recognition and noted that the research breakthroughs enabled by the Negishi cluster will continue her father's legacy of a quest for excellence.
After the speeches, the Negishi family toured the RCAC facilities with campus leaders and saw the Negishi cluster in person.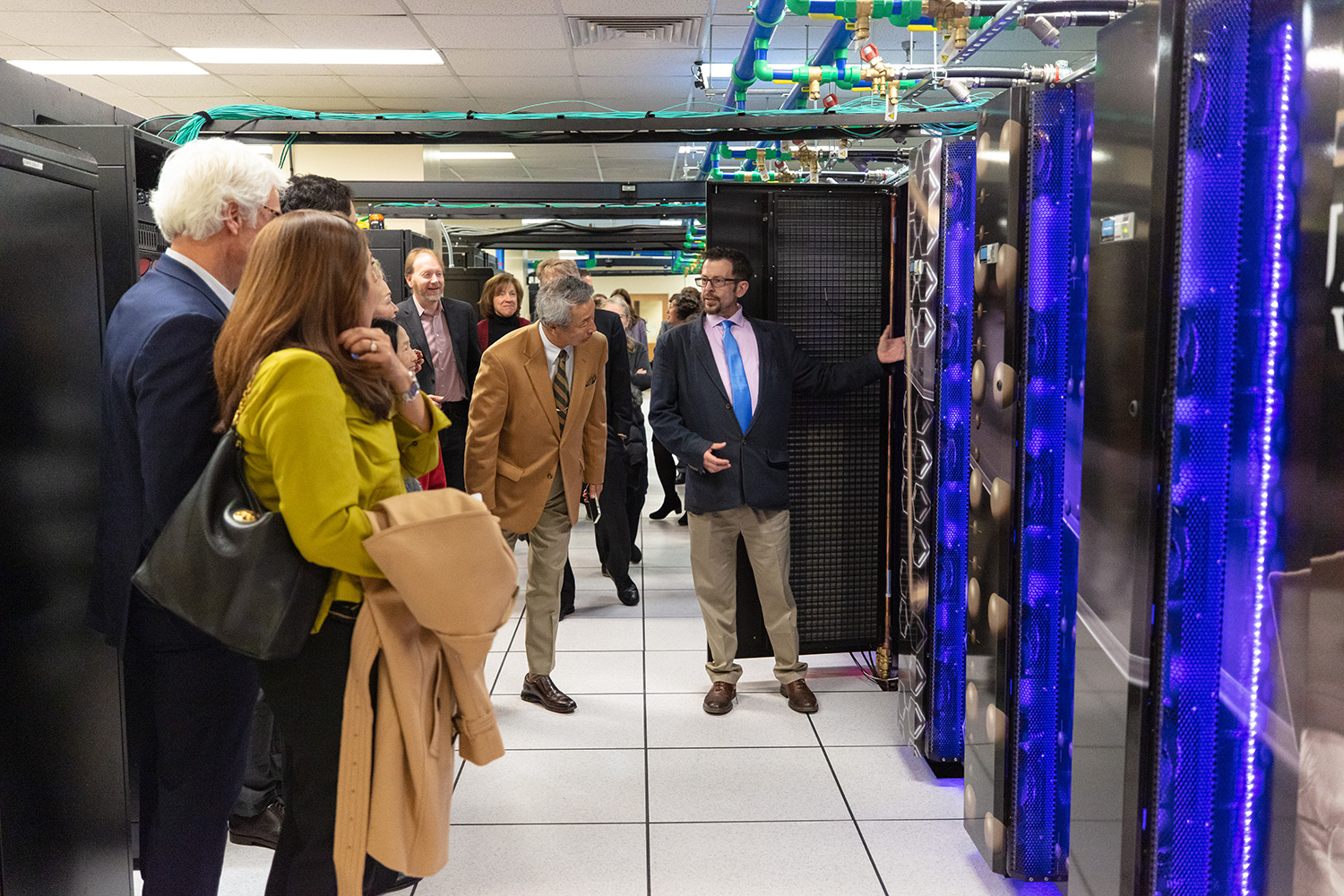 The ceremony was followed by a reception and the unveiling of the Ei-ichi Negishi Archives in the Wetherill Laboratory of Chemistry. The Archives contain Negishi's personal memorabilia, including family photographs and awards collected throughout his esteemed career.
The Negishi cluster is optimized for communities running traditional, tightly-coupled science and engineering applications. The cluster was built through a partnership with Dell and AMD in 2022. Negishi consists of 460 Dell compute nodes with two 64-core AMD Epyc "Milan" processors (128 cores per node) and 256 GB of memory, six large memory nodes with 1 TB of memory, and 15 AMD Instinct M1210 GPUs.
Negishi is part of Purdue's community cluster program, which is now in its 18th year and serves more than 220 active partners from 60 departments and all three Purdue campuses. 61% of Purdue's grant awards last year were awarded to faculty using high-performance computing.
Ei-ichi Negishi was the Herbert C. Brown distinguished professor of chemistry and the winner of the 2010 Nobel Prize in chemistry. Negishi came to Purdue in 1966 as a postdoctoral scholar in the lab of Brown, who is himself a Nobel laureate and the namesake of another RCAC cluster.
Negishi's Nobel Prize was awarded in recognition of his work on palladium-catalyzed cross-coupling chemistry (now known as the Negishi coupling). That work was described by the Nobel Foundation as "great art in a test tube."
Negishi was a prolific researcher, with more than 400 publications on an array of problems in synthetic organic chemistry, and numerous awards besides the Nobel Prize, including the Chemical Society of Japan Award (1997), the American Chemical Society Award in Organometallic Chemistry (1998), the McCoy Award (1998), the Sigma Xi Award at Purdue (2003), the Order of Culture in Japan (2010), the American Chemical Society Award for Creative Work in Synthetic Organic Chemistry (2010), the Indiana Sagamore of the Wabash (2011) and the Purdue Order of the Griffin (2011). He was elected to the American Academy of Arts and Sciences in 2011.
Space in the Negishi cluster can be purchased here.
To learn more about the Negishi cluster, contact rcac-help@purdue.edu.