Anvil REU Program has major impact on student success
After only one year, the Anvil summer Research Experience for Undergraduates (REU) program is already impacting the lives and careers of the students who participated.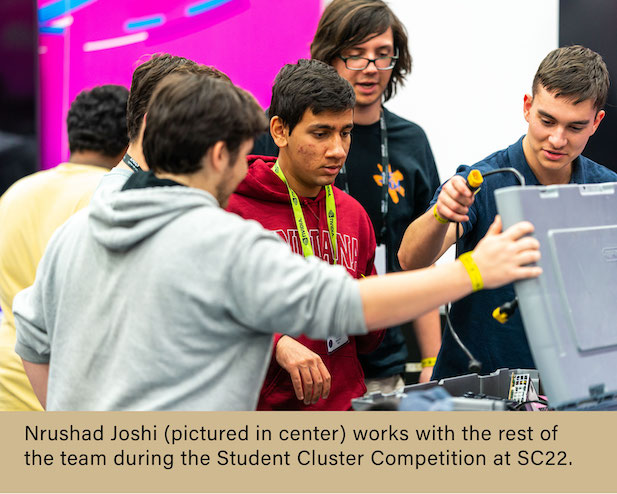 Nrushad Joshi, an undergraduate student at Indiana University, recently accepted an offer to intern at Oak Ridge National Laboratory as part of the Department of Energy's Science Undergraduate Laboratory Internships (SULI) program. According to Joshi, he "received this offer thanks to the skills I gained at the Anvil summer REU internship and student cluster competition."
Joshi was a novice HPC user when entering the Anvil REU program. After spending 12 weeks working on Anvil under the mentorship and guidance of the Anvil team, he gained enough knowledge to secure a spot in the highly competitive SULI program. Not only that, but working on Anvil has changed Joshi's entire career path: "After the Anvil summer internship, my career plans changed. I wanted to go into robotics before, and now I want to work in high-performance computing."
During the Anvil summer REU program, Joshi worked on multiple data analytics projects. These projects aimed to improve Anvil data collection and reporting, which helped ensure that quality of service, effective system utilization, and performance were all maintained.
"I worked on benchmarking and XDMoD integration," says Joshi. "Benchmarking was my favorite and the most beneficial for me personally."
During this part of the REU program, Joshi learned concepts surrounding the benchmarking of HPC systems. He then utilized that knowledge by measuring the performance of Anvil's compute nodes, GPU nodes, scratch, and BeeOND filesystems. With this project, Joshi helped establish baselines for Anvil system performance, which were used to create a continuous measurement framework.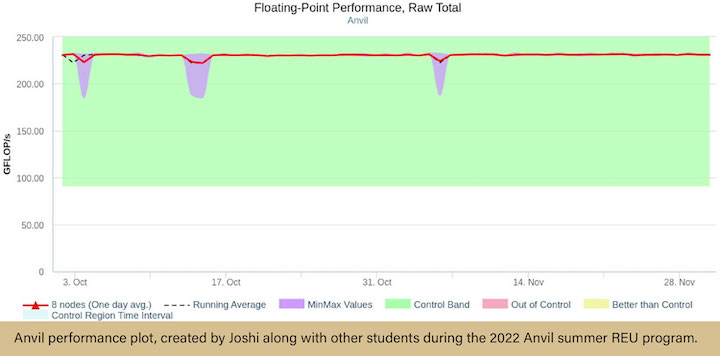 Aside from gaining knowledge and experience with a powerful HPC system, the Anvil REU program also helped Joshi in other ways. Because of his participation in the program, Joshi was able to compete in the Student Cluster Competition (SCC) at the 2022 SuperComputing Conference, where he gained valuable problem-solving and communication skills. And because he competed in the SCC, he eventually met his mentor and future sponsor for the SULI program, Dr. Tushar Athawale, a Research Scientist in the Computer Science and Mathematics Division of the Oak Ridge National Laboratory.
"I was able to find my mentor because I attended an event at IU that was only open to people who participated in the cluster competition. So if I had not gone to that competition, I would never have met my sponsor and mentor for the internship. I wouldn't even have known about the internship without the student cluster competition."
Thankfully, Joshi did learn about the SULI program and applied. He was accepted early in the application process and had his choice of two locations for his internship. Joshi decided that the program at Oak Ridge National Laboratory was the perfect fit.
Oak Ridge National Laboratory (ORNL) is the Department of Energy's largest science and energy laboratory, supporting missions in scientific discovery and innovation, clean energy, and nuclear security. At his new internship at ORNL, Joshi will work on a program called VKM-m, a visualization software specifically developed for exascale supercomputers. Joshi will be developing an uncertainty visualization feature for VKM-m.
The Anvil team is excited for Joshi and hopes he makes the most of this new opportunity.
"We are thrilled that Nrushad will be able to take the knowledge and experience gained during his time in our REU program and apply it at Oak Ridge," says Erik Gough, a Lead Computational Scientist at the Rosen Center for Advanced Computing and the head mentor for the Anvil summer REU program. "It was a pleasure to work with him throughout the summer, and I wish him all the best. Congrats, Nrushad!"
Anvil is Purdue University's most powerful supercomputer, providing researchers from diverse backgrounds with advanced computing capabilities. Built through a $10 million system acquisition grant from the National Science Foundation (NSF), Anvil supports scientific discovery by providing resources through the NSF's Advanced Cyberinfrastructure Coordination Ecosystem: Services & Support (ACCESS), a program that serves tens of thousands of researchers across the United States. Researchers may request access to Anvil via the ACCESS allocations process. More information about Anvil is available on Purdue's Anvil website. Anyone with questions should contact anvil@purdue.edu. Anvil is funded under NSF award No. 2005632.