Anvil REU Student Lands Cybersecurity Role
MaKayla McCartan is an undergraduate student at Purdue University,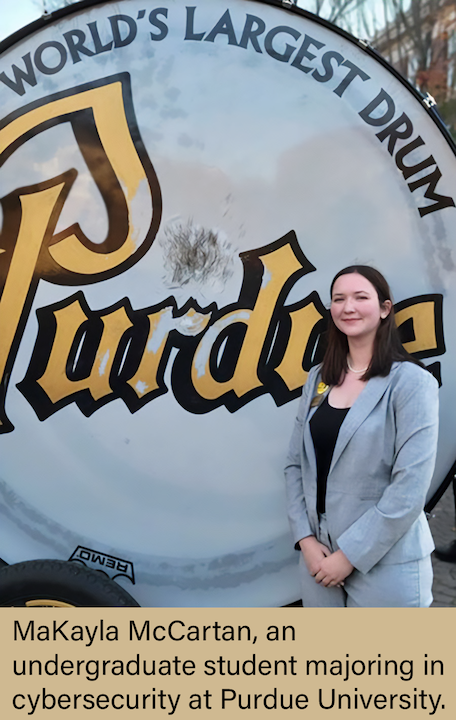 where she majors in cybersecurity and minors in both sociology and organizational leadership. McCartan was a participant in the 2022 Anvil REU program, and has recently accepted an internship at Grant Thornton, a globally known tax, audit, and advisory company. According to McCartan, Grant Thornton has recently entered the world of cybersecurity:
"Grant Thornton has gotten big in the cybersecurity consulting business, so working with them, I will be a consultant in Risk Advisory and Cybersecurity. As a Risk Advisory intern, I'll be working with my supervisor to help clients through the use of Cyber Security-based assessments and risk analysis. I will also be advising clients on business continuity and disaster recovery, offering advice on how to better protect their systems, and mitigating any damage that has already happened."
McCartan came across the opportunity while applying for multiple summer internships online. Going into her senior year, McCartan wanted to expand her horizons in order to help decide what career path she'd like to follow after graduation, and the Grant Thornton internship was a chance to do just that.
"I applied to a lot of internships for the summer, but I wanted to try consulting because I wish to narrow my path in cybersecurity for what I want to do after college. The Anvil REU program helped because I learned more about research in cybersecurity and the use of network management on a HPC system. So I said, 'I like this opportunity, I'm going to try something completely different to see if I like it as well, and then narrow my path from there.'"
Unlike other students who participated in the Anvil REU during the summer, McCartan started the program at the beginning of the fall semester and concluded with a poster presentation at the 24th annual CERIAS Security Symposium in March 2023. During her time in the REU program, McCartan focused on bringing her cybersecurity skills to a high-performance computing (HPC) system, something she had never done before. Her project entailed analyzing the data and network traffic from the Anvil supercomputer to look for potential security threats, and then taking that data and presenting it in a visually friendly, intelligible format that anyone could understand. While this may seem straightforward, there are major differences between the security analysis of personal computers and HPC systems.
"With Anvil, it was unique because of the fact that there's so much data going through the network," says McCartan. "It is more vulnerable than your standard personal system because it needs to have fewer restrictions for its data to flow to researchers internationally and quickly. So the system is guarded a lot differently than your normal system and it was interesting to learn how to work on a research network instead of a standard user or personal network that I have seen in class."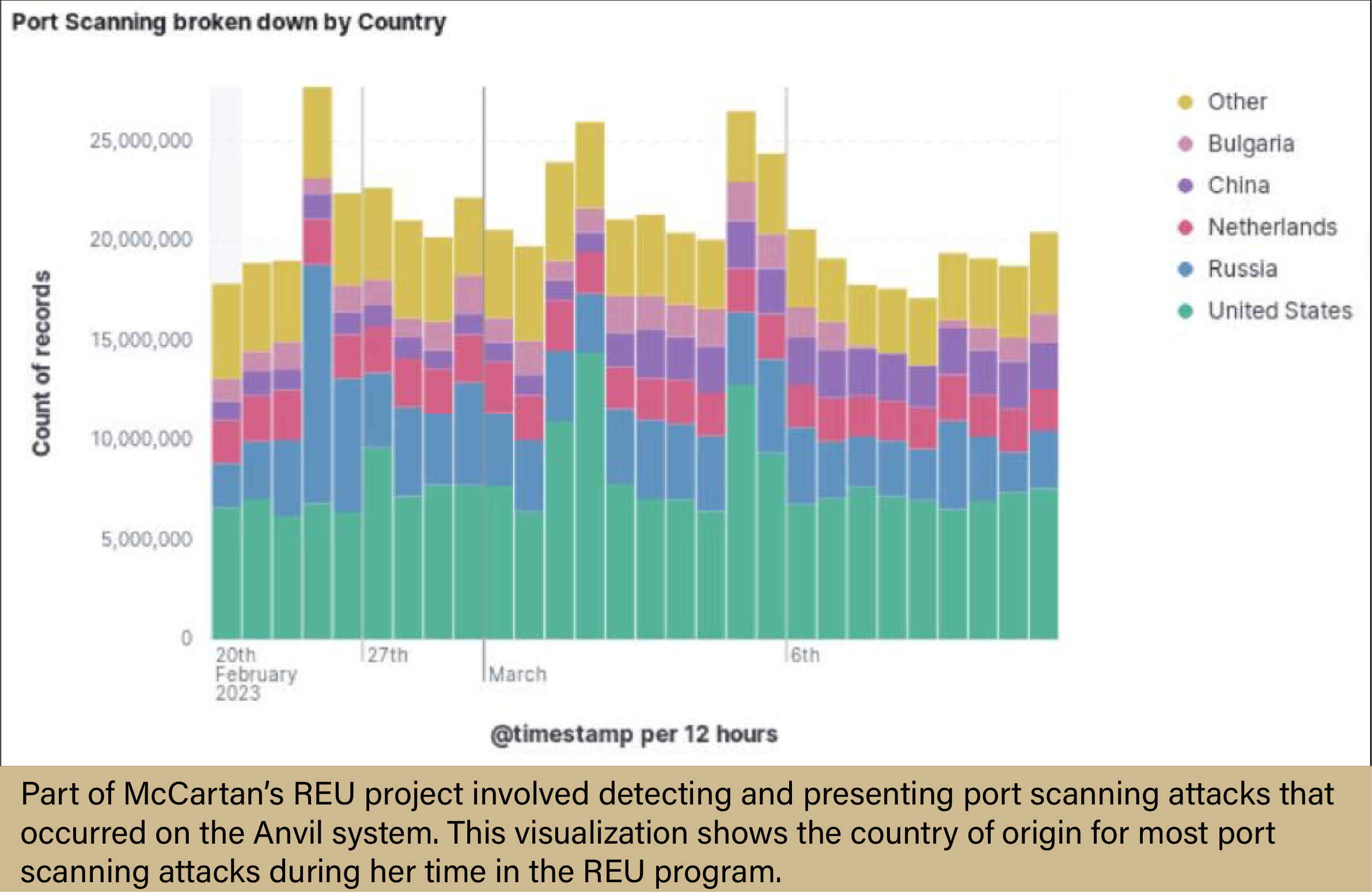 Although it is unlikely that McCartan will work on an HPC system during her time at Grant Thornton, the knowledge gained during the REU program has better prepared her for anything that the consulting job may bring her way.
"The nature of consulting for a big company like Grant Thornton is that you never know what you'll be working on," says Erik Gough, a Lead Computational Scientist at the Rosen Center for Advanced Computing and the head mentor for the Anvil summer REU program. "One day, you may work on cybersecurity issues for an individual client with a single laptop, and the next, you may be tasked with helping increase security for an entire HPC data center. Having the skills and experience to do both greatly increase your chances of success, and I have no doubt that MaKayla is prepared for anything that they can throw at her."
To learn more about the 2023 summer Anvil REU program, please visit our Research Experience for Undergraduates webpage.
To view McCartan's 2023 CERIAS Symposium Poster submission, please click here.
For more information regarding HPC and how it can help you, please visit our "Why HPC?" page.
Anvil is Purdue University's most powerful supercomputer, providing researchers from diverse backgrounds with advanced computing capabilities. Built through a $10 million system acquisition grant from the National Science Foundation (NSF), Anvil supports scientific discovery by providing resources through the NSF's Advanced Cyberinfrastructure Coordination Ecosystem: Services & Support (ACCESS), a program that serves tens of thousands of researchers across the United States. Researchers may request access to Anvil via the ACCESS allocations process. More information about Anvil is available on Purdue's Anvil website. Anyone with questions should contact anvil@purdue.edu. Anvil is funded under NSF award No. 2005632.