RCAC hosts second annual cyberinfrastructure symposium, focus on AI future and ethics
The Rosen Center for Advanced Computing (RCAC) held its second annual cyberinfrastructure symposium "Cyberinfrastructure and AI" on October 12. The event, a follow-up to last year's inaugural symposium, featured a keynote address from DataDirect Networks (DDN) co-founder and president Paul Bloch as well as plenary presentations from NVIDIA senior vice president (and Purdue alum) Emmett Kilgariff and Beth Plale, the executive director of Indiana University's Pervasive Technology Institute.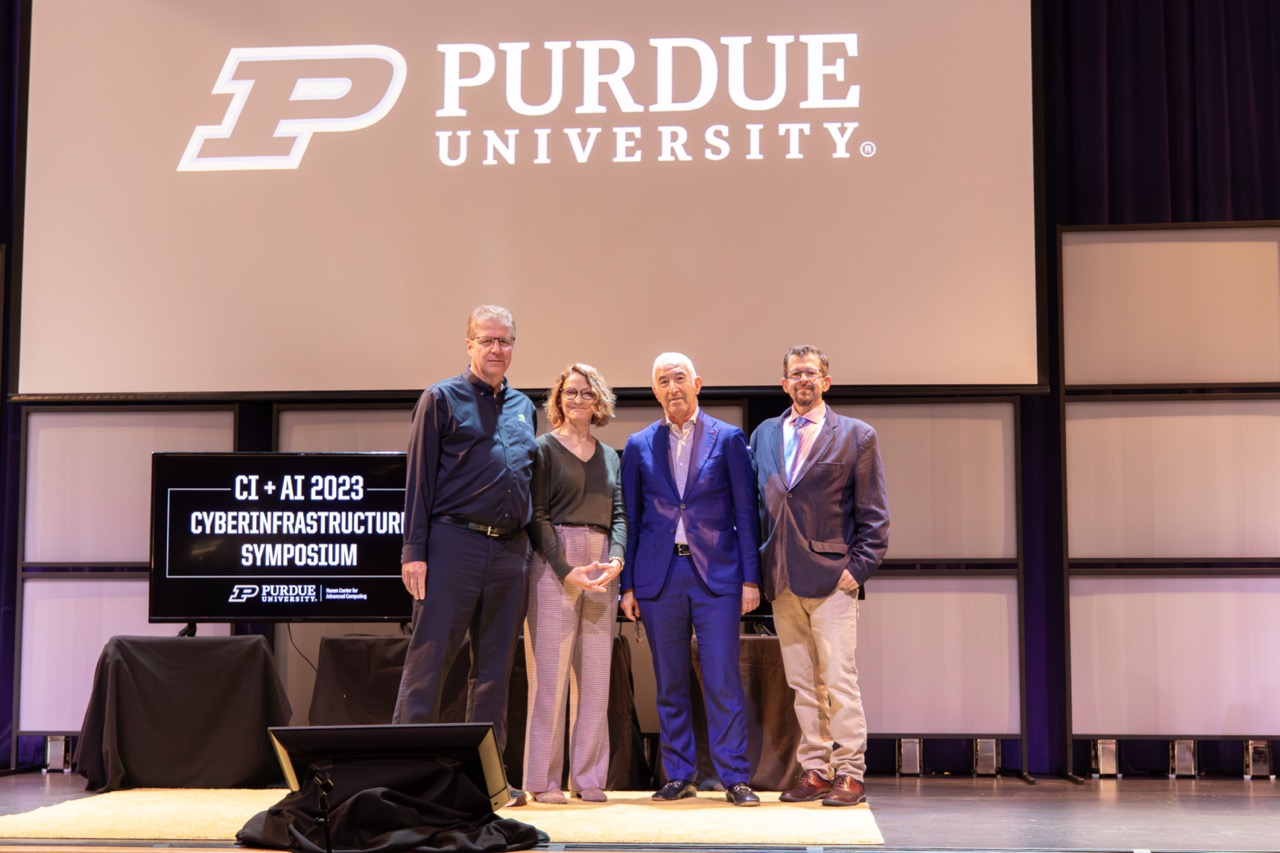 Bloch shared his vision for how technologies catalyzed by AI will create future growth opportunities, and spoke about how we can rise to meet the challenges of efficiency and scale presented by AI.
Plale, who is the co-PI on the Intelligent Cyberinfrastructure with Computational Learning in the Environment (ICICLE) project, an NSF-funded AI Institute, spoke about the importance of AI ethics and democratization.
Kilgraff discussed how AI is transforming supercomputing simulations and how the need for supercomputers is greater than ever. He stressed that with Moore's law plateauing, we cannot rely on the processing power of a single computer and instead need computers working in parallel to solve modern computing problems ranging from healthcare to robotics.
The symposium also featured presentations from Preston Smith, executive director of RCAC, and Carol Song, chief scientist for RCAC, about the state of campus cyberinfrastructure and how innovations in advanced cyberinfrastructure are helping the Purdue community.
"Events like this are great for the campus community, as they not only showcase the diverse sets of applications that use our campus cyberinfrastructure, but also allow for new connections to be made between researchers, students, and our external partners," says Smith.
With less than 9% of Purdue IT's budget, RCAC served the faculty who were responsible for 63% of the FY23 research expenditures ($363 million). Gilbreth, the community cluster dedicated to machine learning and AI research, has 148 individual faculty partners, more than twice as many as last year.
George Takahashi, technical director for RCAC's Envision Center, spoke about how the Envision Center's extended reality (XR) technologies can be used to enhance learning. The Envision Center has 13 active XR classroom projects spanning the colleges of Agriculture, Education, Engineering, Liberal Arts, Pharmacy and Science.
Jeanna Blake, a graduate student in the College of Veterinary Medicine, won the student poster award for her poster "A Splice Site Donor Variant is Associated with Glycogen Storage Disease in Basset Hounds."
A number of Purdue faculty members also presented at the 2023 symposium. Speakers included:
Daniel Aliaga, associate professor of computer science;
Alex Psomas, assistant professor of computer science; and
Ziran Wang, assistant professor of civil engineering.
The symposium concluded with a reception sponsored by DDN, AMD and Piers Group. Registered conference attendees received "HAIL Purdue" t-shirts sponsored by DDN.
Bloch co-founded DDN, and brings over twenty five years of experience in starting, growing and successfully managing technology businesses, including serving as the president of DDN, Personal Writer, Inc., and MegaDrive Systems, Inc. Previously, he enjoyed a successful tenure as a director for Hi-Tech Consulting Group, a European management consulting firm based in the United States. Bloch graduated with an engineering degree from National Superior School of Telecommunications (ENST) in France and a master's degree in electrical engineering from the California Institute of Technology.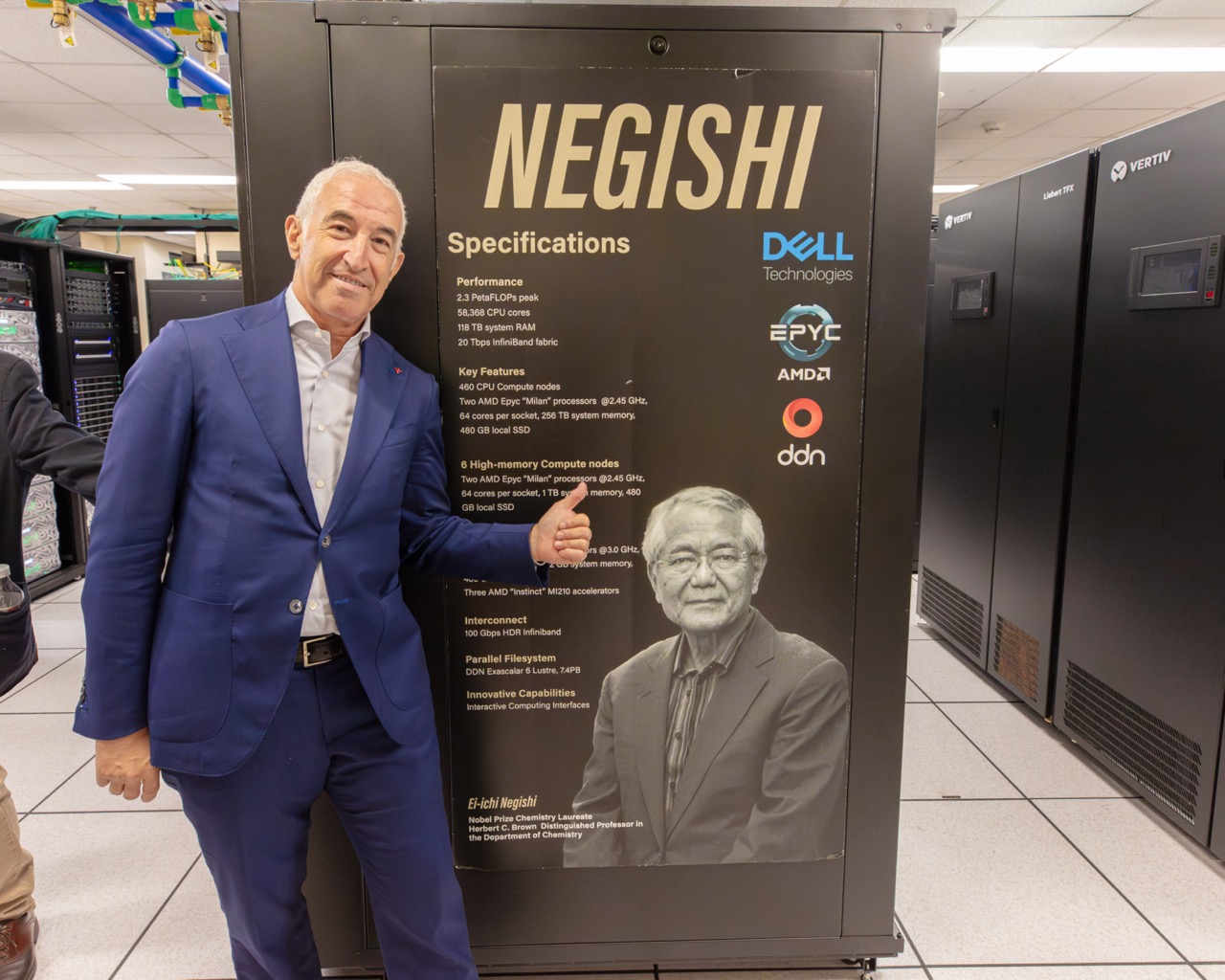 Kilgariff is the vice president of GPU architecture at NVIDIA, where he's contributed to every GPU developed in the last 22 years by Nvidia. A 1980 graduate of Purdue, he spent the first 19 years of his career working in many different areas including satellite ground stations, power supplies, image processing and networked servers, along with computer graphics. In 1987 he worked on his first 3-D graphics project, and caught the graphics bug, and has had an exciting career in the field ever since.
Plale has had a long career studying issues of trust in the products of scientific research, and how that trust can be strengthened through technology. Her specific research and policy interests are in AI research infrastructure, AI accountability and open science and reproducibility. She has served in a principal investigator (PI/PD) or co-principal investigator (co-PI) role on 62 external grant funded awards totaling just under $50 million. Plale's postdoctoral studies were carried out at Georgia Institute of Technology. Her PhD in computer science is from the Watson School of Engineering at the State University of New York Binghamton.
Videos of all the symposium talks are available here.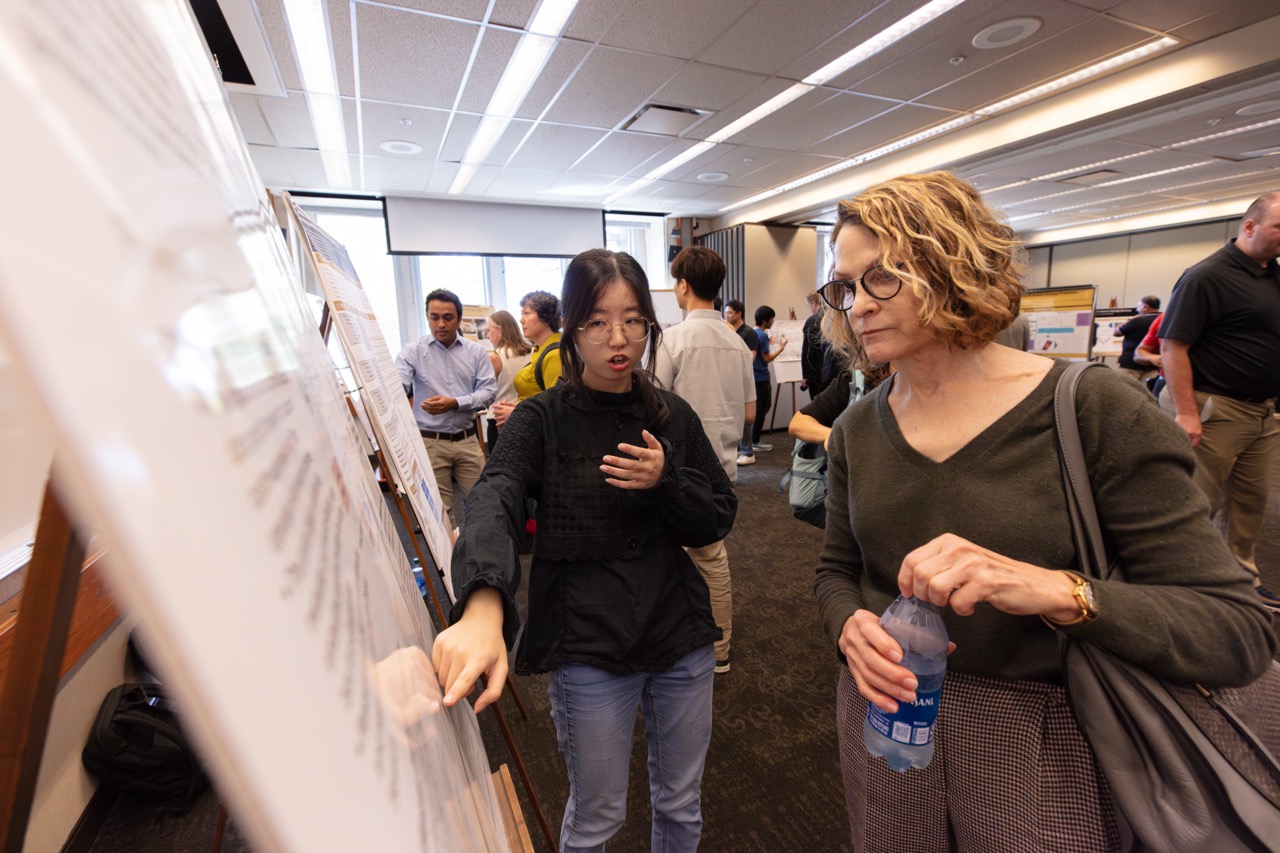 To learn more about RCAC resources, contact rcac-help@purdue.edu.