Anvil REU Summer 2023 program is a tremendous success
After 11 weeks of hard work and hands-on education, the Anvil Research Experience for Undergraduates (REU) Summer 2023 program has come to a close.
This year's Anvil REU program saw five students from across the nation gather at Purdue's campus in West Lafayette, Indiana, to learn about high-performance computing (HPC) and work on projects related to the operations of the NSF-funded Anvil supercomputer at Purdue. During the program, which is hosted by the Rosen Center for Advanced Computing (RCAC) with support from the National Science Foundation (NSF), the students were able to gain the knowledge and skills necessary to build and support advanced research computing systems and scientific applications on these systems.
The Anvil REU program is a paid summer internship open to undergraduate students in the United States from any background, not just those who major in Computer Science. When the application window closed in mid-February of this year, the program had received over 70 applications. The Anvil REU mentors—seven RCAC staff members who led the projects that the students would work on during the summer—along with the Anvil executive team, took this list of 70+ applicants and distilled it down to five students. These five participants of the Anvil REU program were:
•Ved Arora, Data Science & Analytics major from Case Western Reserve University in Ohio
•Nayeli Gurrola, Computer Science major from the University of Texas Rio Grande Valley
•Oluwatumininu Oguntola, Computer Science major from the University of North Carolina at Chapel Hill
•Henry Olson, Computer Science and Cybersecurity double major from Purdue University Northwest
•Aneesh Chakravarthula, Computer Science major from Purdue University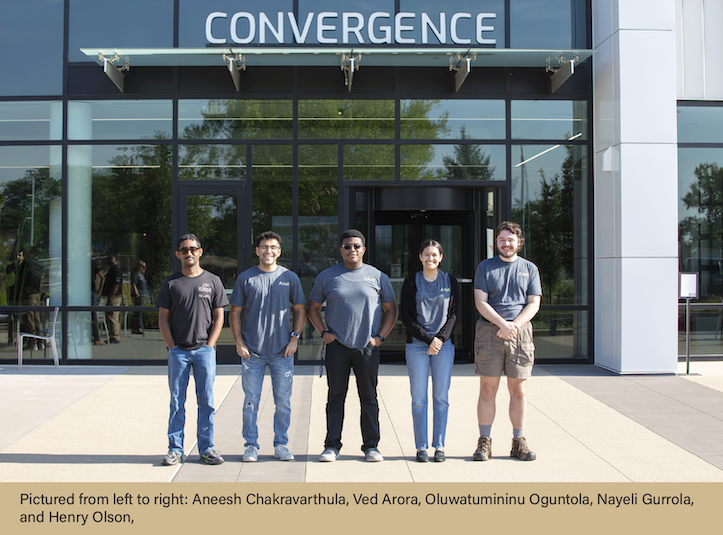 The Anvil REU program consisted of four separate projects, with one or two students working on each one. These projects were chosen with real-world applicability in mind—the students would not only be gaining experience with HPC and learning new skill sets, but would simultaneously be increasing Anvil's capabilities. Each project had two mentors working with the students to help them achieve their goals.
Project 1:
The first Anvil REU project for 2023 focused on Data Analytics. Two students, Ved Arora and Nayeli Gurrola, teamed up to tackle this project under the supervision of their mentors, Guangzhen Jin, and Amiya Maji, as well as Anvil Executive Team member, Preston Smith. In this project, the students instrumented and analyzed scientific application workloads on the Anvil system. Specifically, the two were tasked with integrating the XALT job-level usage activity monitoring tool for a deeper analysis of workloads. On completion of their REU program, Arora and Gurrola successfully presented a visualization dashboard with a view and insights into all the scientific applications that researchers have used on Anvil. This visualization dashboard was multi-faceted, including such information as the number of users per application, the popularity of individual compiler and Python versions, the number of CPU/GPU hours utilized per application, as well as the spread of usage across all of the different applications. This information is very useful for HPC system administrators to determine which software libraries to continue supporting, as well as identify popular scientific codes that may benefit from benchmarking and optimization.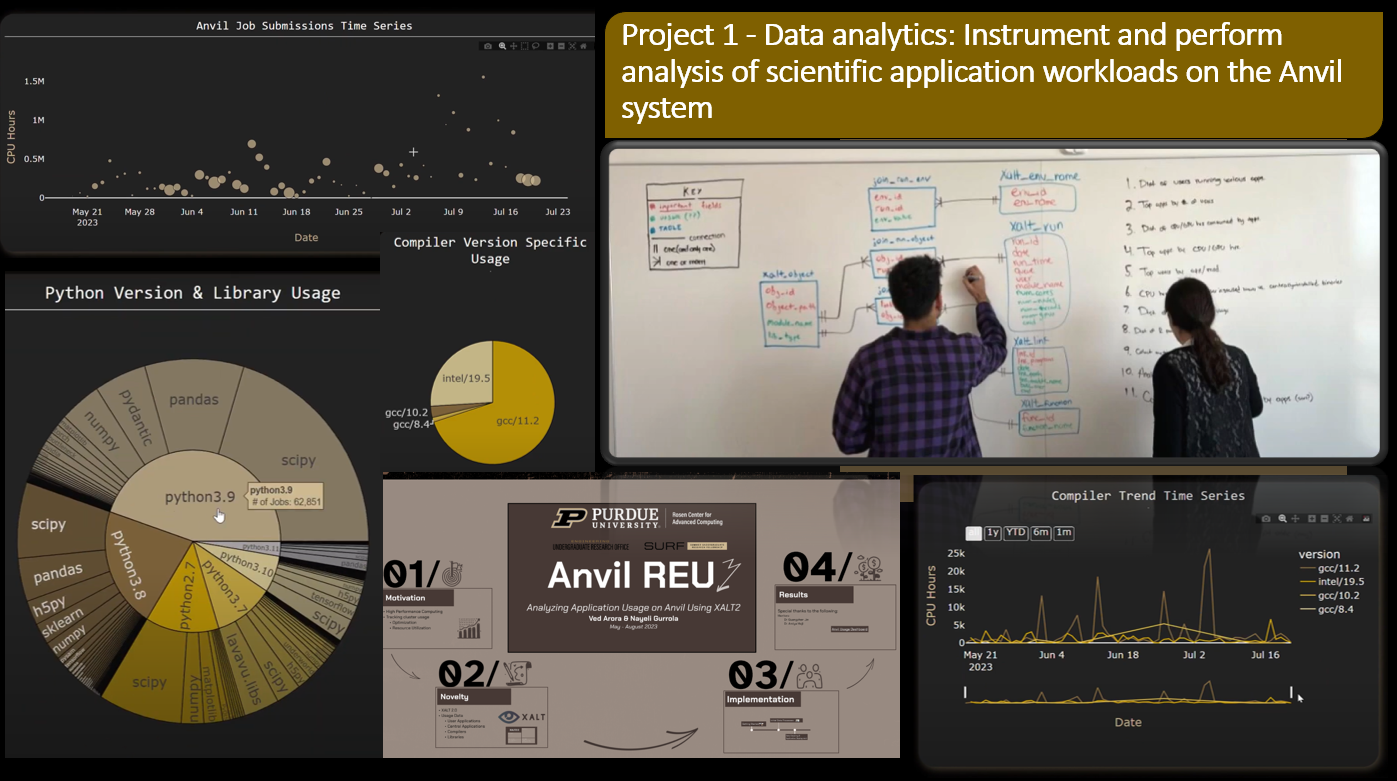 Project 2:
The second Anvil REU project aimed at extending the Anvil supercomputer to burst scientific workloads into the Microsoft Azure cloud. Henry Olson worked on this project under the supervision of his mentors, Erik Gough and Ryan DeRue, and Anvil Executive Team member, Arman Pazouki. Olson implemented a direct cloud burst from Anvil to Azure for HPC and accelerator workloads, creating a hybrid cloud between the two and allowing for free-flowing communication and the sharing of resources. This would allow, for instance, the Slurm scheduler on Anvil to seamlessly submit jobs to HPC nodes that have been set up on Azure cloud. After facing multiple obstacles throughout the summer, Olson successfully completed his project on the second-to-last day of the program.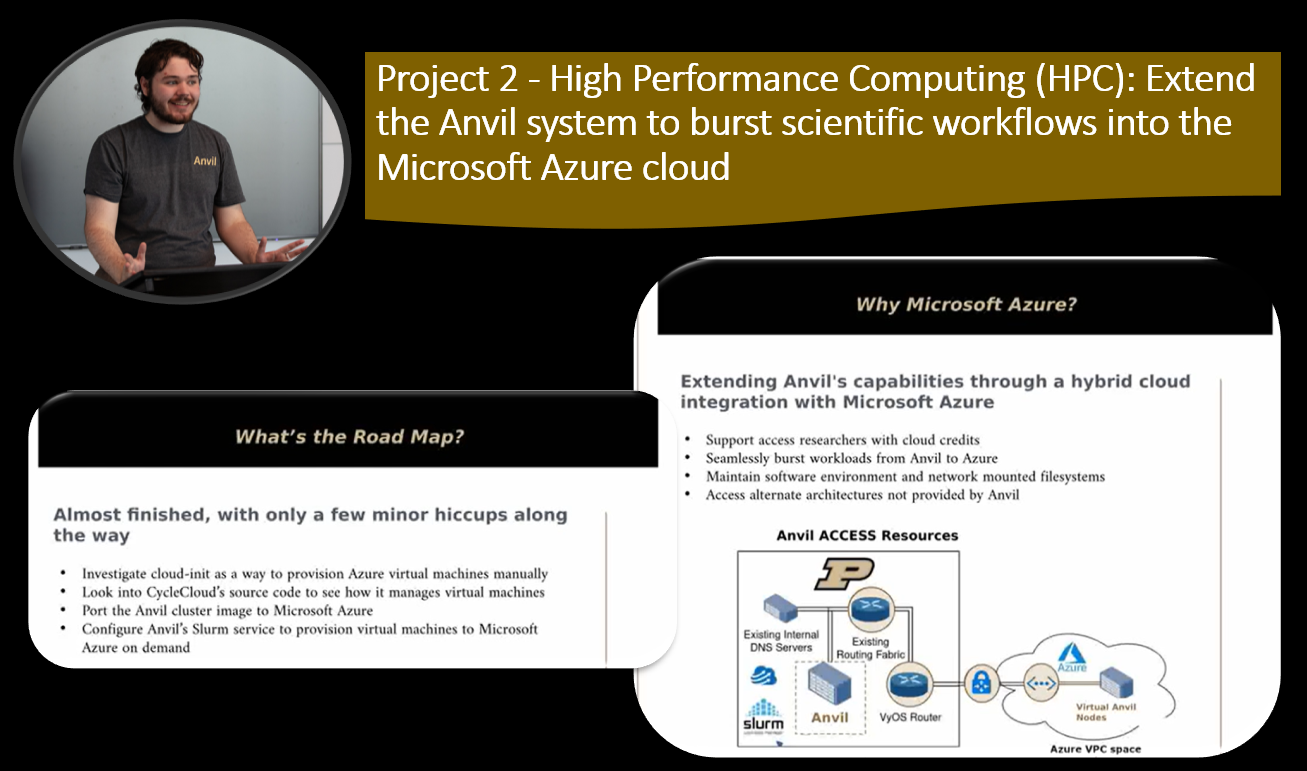 Project 3:
The third Anvil REU project aimed to extend Anvil's Kubernetes-based composable subsystem as an on-ramp to Azure Kubernetes Service. Oluwatumininu Oguntola worked on this project with his mentors, Erik Gough and Rajesh Kalyanam. The purpose of this project was to connect the Anvil composable subsystem's Rancher management platform to Azure Kubernetes Service in order to support elastic-scaling of workloads for science gateway applications. Oguntola was successful in completing his primary objectives, and, as such, has made it easy to create and manage Kubernetes clusters on Azure as well as launch workloads on the Azure cloud system from the Anvil composable Rancher web interface. Oguntula was coming in with some experience with containerization using Docker, but did not have any expertise in Kubernetes or Rancher. In order to assist future users who may be in a similar situation, Oguntula also developed detailed documentation with step-by-step instructions as well as answers to FAQs that such users may have.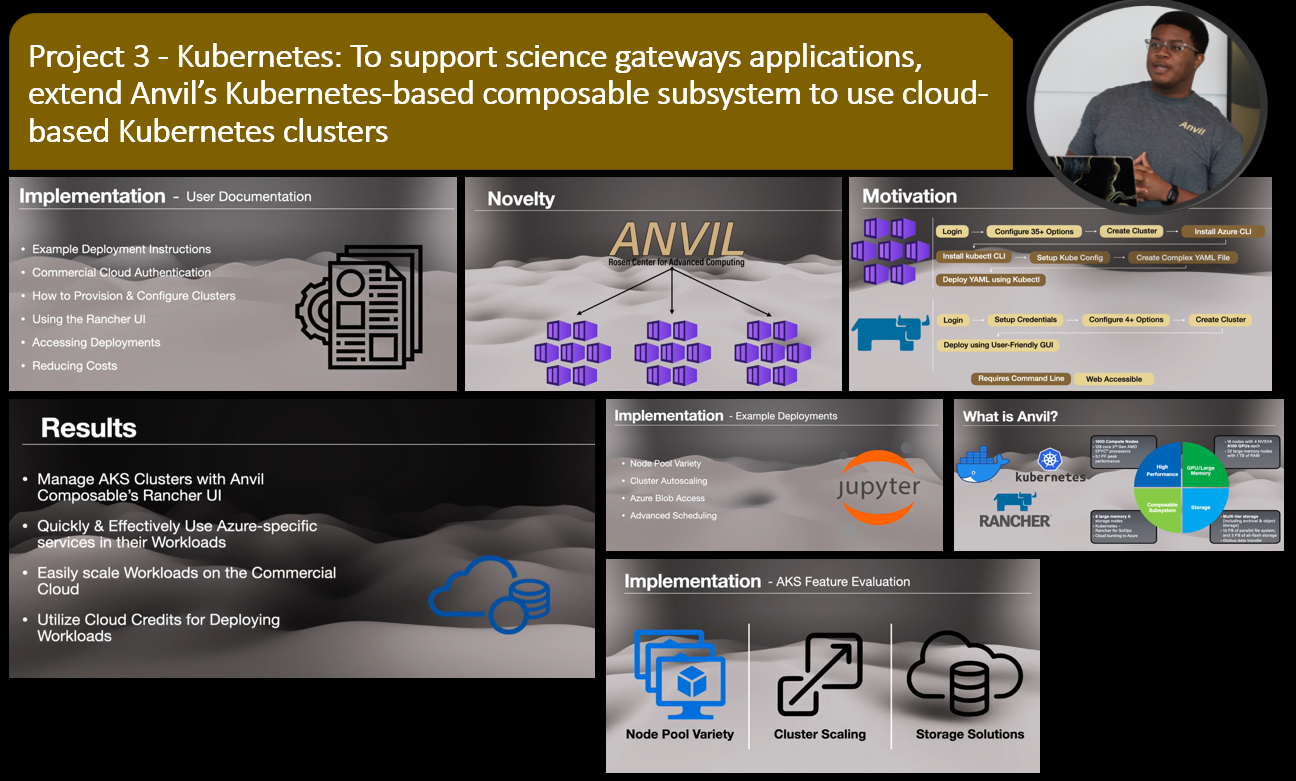 Project 4:
For the fourth Anvil REU project, Aneesh Chakravarthula worked with his mentors, Christopher Thompson, Lev Gorenstein, and Anvil Executive Team member Rajesh Kalyanam, to build and enable containers in support of education. Throughout the summer, Chakravarthula developed deployment solutions for the Jupyter Notebook interactive computing platform that simplify the integration of course materials and federated authentication on Anvil's composable subsystem. By enabling the use of these large-scale notebook deployments, Chakravarthula's work has helped to provide interactive access to Anvil for education and training activities.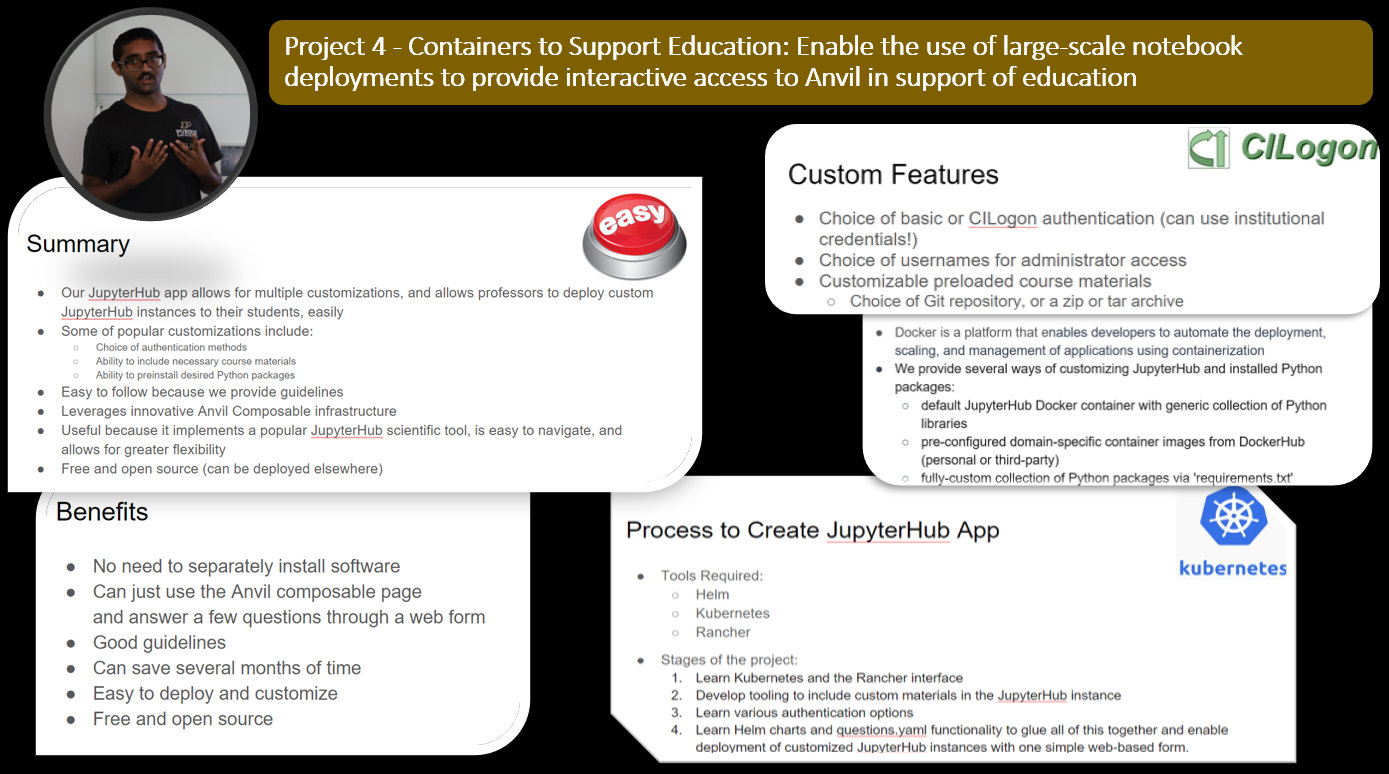 Not just a summer job
While the Anvil REU students worked day in and day out all summer, this program was more than a temporary job—it was a completely immersive learning experience. The REU students not only had unprecedented access to their mentors, but also to all RCAC staff working on-site. On top of that, the students were able to take tours of campus (including the athletics facilities and the nuclear reactor), attend presentations hosted by both RCAC and the SURF (Summer Undergraduate Research Fellowship) program, participate in technical workshops aimed at developing multiple skillsets (writing research abstracts, effective technical communication, etc.), and even attend the Practice and Experience in Advanced Research Computing (PEARC) 2023 Conference! Giving these students the opportunity to gain as much knowledge and experience as possible is a vital component of the Anvil REU program. In this way, RCAC can help to ensure that each one of the REU participants develops into a capable and competent cyberinfrastructure professional.
The Anvil REU program also scheduled ample amounts of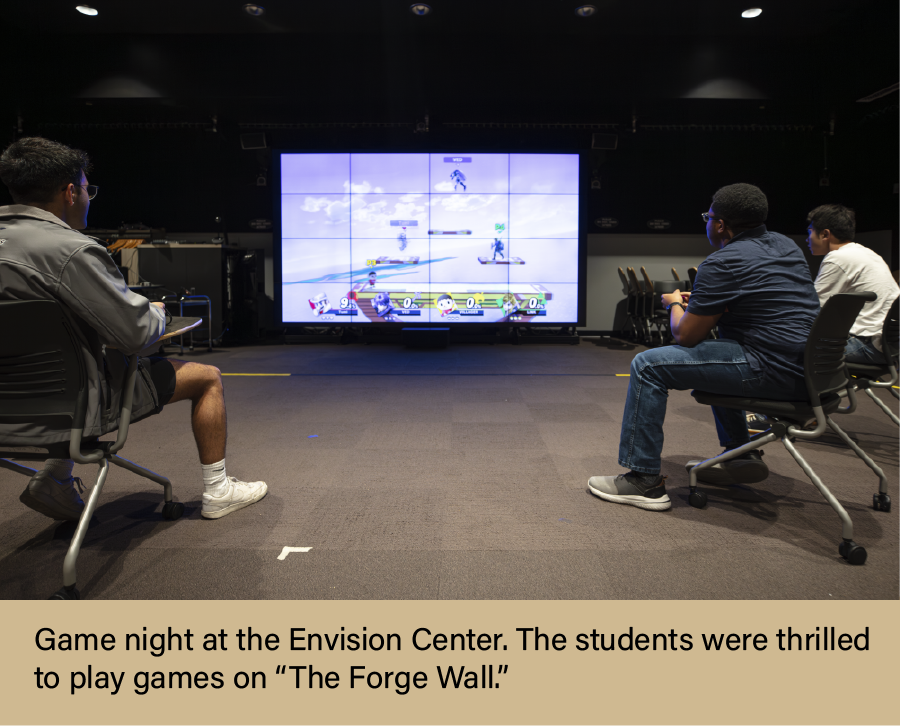 time for socializing, fun, and relaxation. Thanks to the RCAC's partnership with the SURF program, the REU students were able to attend multiple SURF Socials throughout the summer. This allowed the students to hang out with other undergraduates who were at Purdue for non-HPC-specific research projects, leading to the development of new friends while also increasing the students' professional network. One notable social event was Game Night at RCAC's Envision Center, where the students were able to play video games on a massive 160" wide by 88" tall Matrix Tiled LCD display, lovingly known as "The Forge Wall." Of course, the REU participants also socialized outside of these programmed events, but teaching them—by example—the value of having a positive work-life balance is an essential part of professional development.
Ending on a high note
On the final day of the program, the students presented their work to the Anvil team. As they demonstrated the results of their projects, each student discussed their accomplishments, obstacles, failures, and what they learned throughout the summer. The Anvil team then asked the students questions and gave them feedback on their work. Overall, these five students made fantastic progress: they completed their projects, learned technical and people skills they will need when in the workforce, and gained an in-depth understanding of the world of HPC. To the Anvil team, it is wonderful to hear how this summer might help steer the future careers of these students, some of whom indicated a desire to include HPC in their career planning. The RCAC staff was delighted with everything the students achieved and are confident they will be successful in future endeavors.
To learn more about the 2023 summer Anvil REU program, please visit our Research Experience for Undergraduates webpage.
For more information regarding HPC and how it can help you, please visit our "Why HPC?" page.
Anvil is Purdue University's most powerful supercomputer, providing researchers from diverse backgrounds with advanced computing capabilities. Built through a $10 million system acquisition grant from the National Science Foundation (NSF), Anvil supports scientific discovery by providing resources through the NSF's Advanced Cyberinfrastructure Coordination Ecosystem: Services & Support (ACCESS), a program that serves tens of thousands of researchers across the United States. Researchers may request access to Anvil via the ACCESS allocations process. More information about Anvil is available on Purdue's Anvil website. Anyone with questions should contact anvil@purdue.edu. Anvil is funded under NSF award No. 2005632.
P.S.—Ved, Nayeli, Tumi, Henry, and Aneesh: On behalf of the entire RCAC department, congratulations and best of luck!