Women in HPC sponsors student attendance at SIGGRAPH conference
Purdue's Women in High-Performance Computing (WHPC) group has sponsored student attendance at a series of conferences in 2023. One of those students, Kate Koury, who is earning a master's degree in computer graphics technology, recently returned from the Association of Computing Machinery (ACM)'s SIGGRAPH conference, where she was a student volunteer and participant.
"It was a whirlwind of volunteer shifts, technical papers, seeing new technology, meeting professionals in the industry and connecting with other volunteers," says Koury, of her conference experience.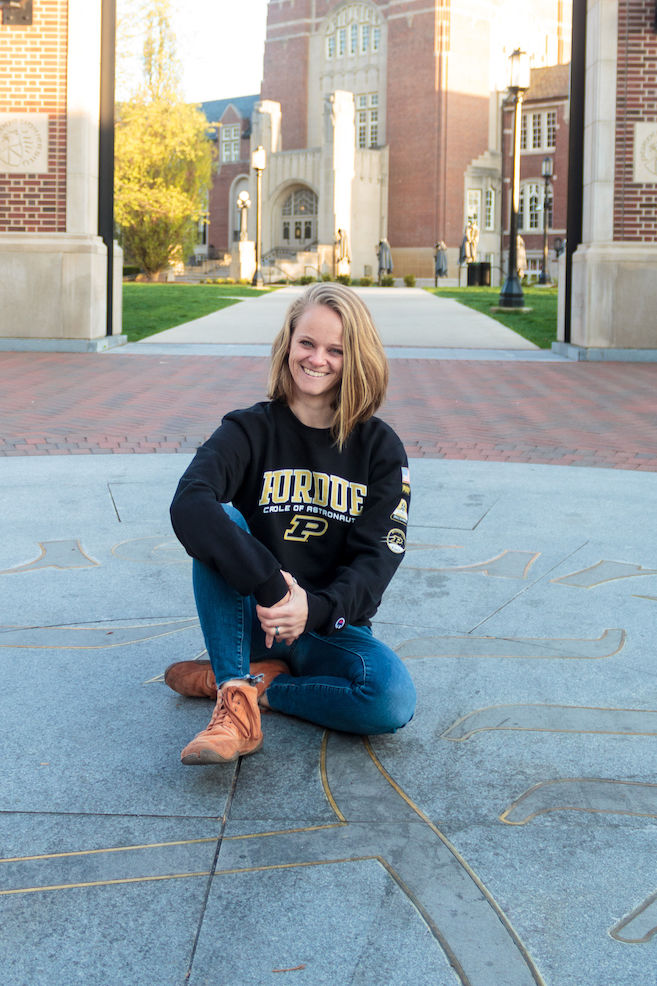 At SIGGRAPH, Koury participated in job fairs, technology demonstrations and attended presentations from organizations such as NVIDIA, Pixar and NASA.
"Graphics and computers now span every field from health, entertainment, mining, space exploration, automotive, construction and more," says Koury. "Getting to witness such a wide variety of new technology reinvigorated my excitement for my field and I learned so much from meeting both professionals and students like me and hearing about what excites them and where their work has taken them."
Koury says that her biggest takeaway from the conference will be all the new connections made.
"From industry professionals I can ask for advice, to other students I can grow with, I've grown my network to include even more people who I can support and who can support me," says Koury. "I met people here from many different companies, all of whom were excited to connect with me and support me."
Purdue WHPC's scholarship program provided financial support that funded Koury's attendance and filled in the gaps not covered by being a student volunteer. WHPC members also provided support and guidance to help Koury get through the conference and make the most of her experience.
Koury unreservedly recommends the WHPC scholarship program to other students.
"WHPC supports young women breaking into HPC and serves as an important community for networking and development, which is increasingly important, especially for young women looking to break into traditionally male-dominated fields," says Koury.
"This scholarship in particular supports attendance at conferences where students can learn and make even more new connections."
Purdue WHPC is part of a broader engagement initiative by the Rosen Center for Advanced Computing (RCAC), and is led by women staffers affiliated with RCAC. WHPC is a diverse community encompassing undergraduate, graduate, staff and faculty men and women who are interested in exposing women to high-performance computing and encouraging their pursuit of research and careers in HPC and other technology fields.
Within the WHPC initiative, RCAC extends partial travel assistance to undergraduate and graduate students, empowering their participation in various national conferences aligning with WHPC's objectives. Applicants are assessed on their demonstrated experience with advanced computation and must explain what they hope to gain from participating in the conference. To be eligible, an applicant must identify as a woman and be an undergrad or grad student maintaining good academic standing.
For full eligibility requirements, and to apply for this scholarship, please visit the WHPC Scholarship page.
In addition to the scholarship program, Purdue WHPC organizes a range of activities including regular meetings to discuss technical HPC-related issues of interest, opportunities to network with the WHPC community, a mentorship program, workshops, and exposure to external resources and opportunities.
To learn more about Purdue Women in HPC or be added to the mailing list, contact whpcinfo@lists.purdue.edu.