Ownership
Program Governance
For a program to tackle regulated research data to be a success sponsorship at the highest levels is crucial. The program's sponsors are not required to take formal ownership, but are an absolute must as the program will face growth and resource decisions. Below are the roles involved with Purdue's governance of this program.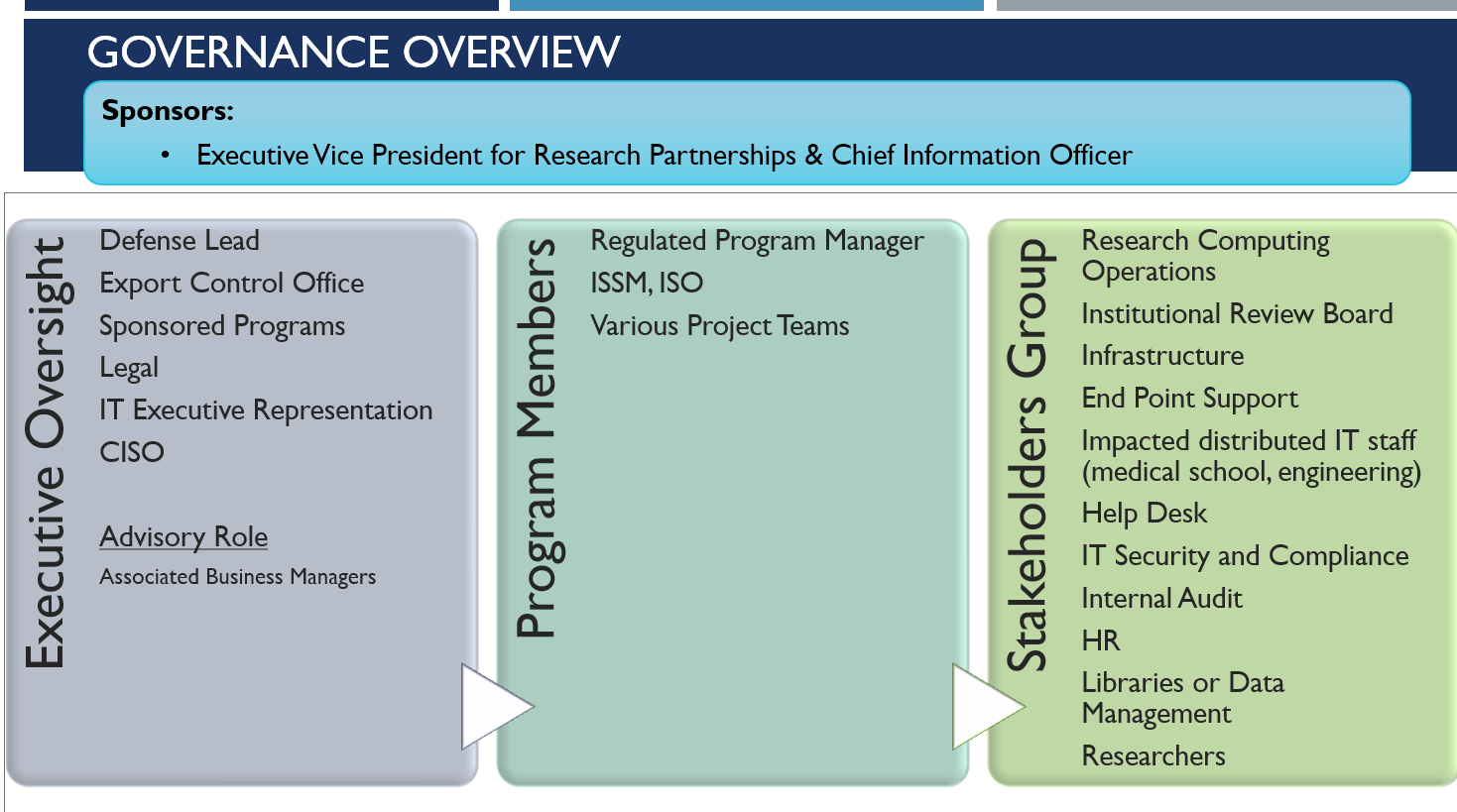 Executive Support
At the beginning of any project, it is a good idea to speak with the executive directors of departments that are involved in the project. When onboarding a group, it is best practice to start with just those in charge, giving them an overview of the program and presenting the goals. Once they are on board and supportive, it is easier to bring in those under them. If a director is not on board with a project, how can they be expected to pitch it to their subordinates?
Program Members
Define an oversight role for the team on your project. This is to ensure that compliance and security requirements are maintained throughout the lifecycle of the project. This should be given to people with a leadership role within the project. Create a partnership with IT, Regulator, and Security Offices. This will help reduce work related to compliance and security activities by allowing for effective communication between trusted parties.
Plan to:
Update IT systems regularly
Train Staff on compliance and security requirements
Manage whole disk encryption
Maintain Technology Control Plans and Additional Documentation
Manage Authorization Resources
Researchers
It is a necessity to talk to a handful of early adopters understand their needs, workflows, and expectations. Additionally, including a few friendly early adopters as you bring up your systems can help to discover bugs and smooth out the process. Researchers should be the last group to officially onboard right before implementing. Incremental onboarding the research into controlled environment is a much better than handling everyone all on at once.
Roles
Program Sponsors
Executive Vice President for Research Partnerships
CIO
Responsibilities
Establish and reinforce the vision for the program
Establish Purdue's risk tolerance within Controlled Unclassified Data
Ensure program funding, ongoing support, and resources
Serve as a program spokesperson responsible for communicating program strategy, benefits, direction, status, and recommendations to stakeholders and the University
Executive Oversight
Responsibilities
Provide leadership and support for the entire program
Support the program by communicating the vision and working to reduce barriers, and mitigating risk
Recommend required resource allocation
Assign authority to the Program Members
Approve risk mitigation strategy and action
Determine and Communicate additional regulations for REED+
Receive periodic briefings from the Program Manager regarding program and project progress, resource needs, issues, risks, funding and expenditures
Approve final projects' deliverables
Stakeholder Group
Responsibilities
Internal Stakeholder to share information and influence the future direction of the ecosystem
Provide feedback, recommendations, or guidance to program components
Program Members
Responsibilities
At the executive oversight direction, directs analysis effort and provides recommendations to the executive oversight
Sets long term goals, prioritization, and strategies in support of the strategic direction and vision established by the executive oversight
Set priorities for funding, program changes, and technology initiatives
Ensures consistency and coordination across the component projects in support of the Program Director
Resolves issues raised from the project teams
Provides guidance and direction on leveraging technology
Provide guidance and direction on policy changes
Discusses and provides recommendations to the executive oversight on critical program and cross-project issues and risks
Interface and collect feedback from Stakeholder Group to identify ecosystem needs to inform prioritization
Understand the PI's Workflow
Below is a role based look at the involved workflow of CUI research. As a PI moves through the stages, they will intersect with administrative roles. This was developed to serve as a map for the CUI researchers.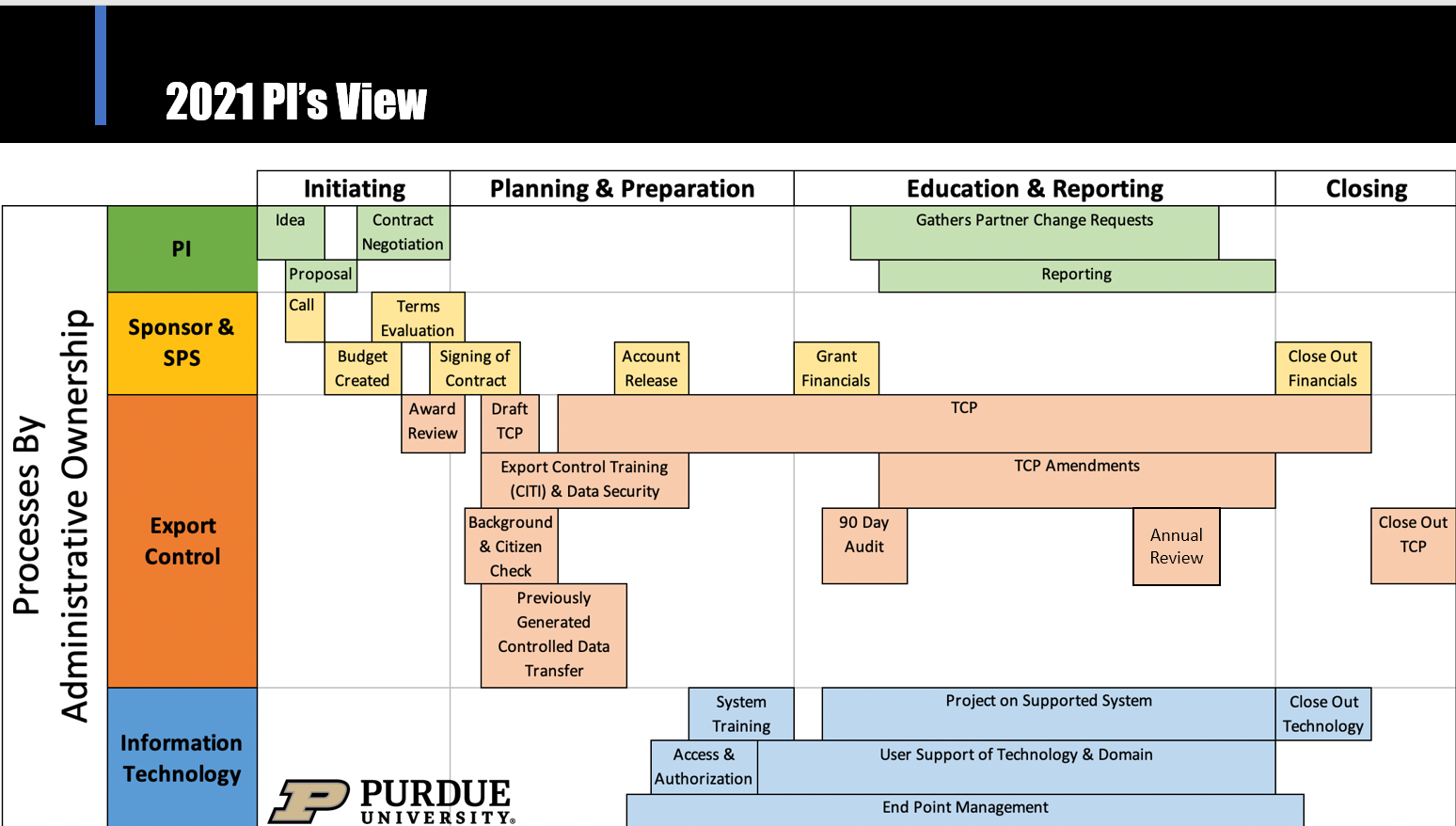 This work is supported by the National Science Foundation under Grant No. 1840043. Any opinions, recommendations, findings, or conclusions expressed are those of the author(s) and do not necessarily reflect the views of the National Science Foundation.