Training
All roles involved in a CUI Program require some level of compliance training. Materials need to be developed and delivered to faculty, research team members, IT support personnel, and executive leadership so that responsibilities are understood, and compliance requirements met.
Educate Researchers on Regulations and Cybersecurity Practices
Create materials to train scientists on regulatory requirements set by funding agencies, how they should be prepared to handle data to comply with them, and how to map agency requirements to appropriate campus cyberinfrastructure resources
Empower Campus IT
Empower Campus IT with a standard campus framework for data security by creating a campus framework for research cybersecurity based on NIST SP 800-171. By aligning with NIST. groundwork will be laid for potential future requirements to handle CUI, and for building a general capability for supporting HIPAA.
Improve Processes for Research Administration
Develop a single process for intake, contracting and facilitate easy mapping to CI resources for the sponsored program office, human subjects office, and export control office.
Contract Review
Contract review is a key component to identify controlled research via specific contracting terms.
Develop CI Professionals
Use undergraduate student participation in creation of the framework. Students will be well suited to understand the risks associated with regulated data as they apply their conceptual knowledge to real-world problems. By pairing students with staff mentors and area Information Systems Security Managers, we will help prepare them to become skilled cybersecurity professionals ready to contribute as they join the workforce.
Use Common Language
When working with CUI, new terms, definitions, and categories might be introduced. Learning common terms will help with project communication and communication with the regulatory office. Below is an example of common language to security access to systems and data.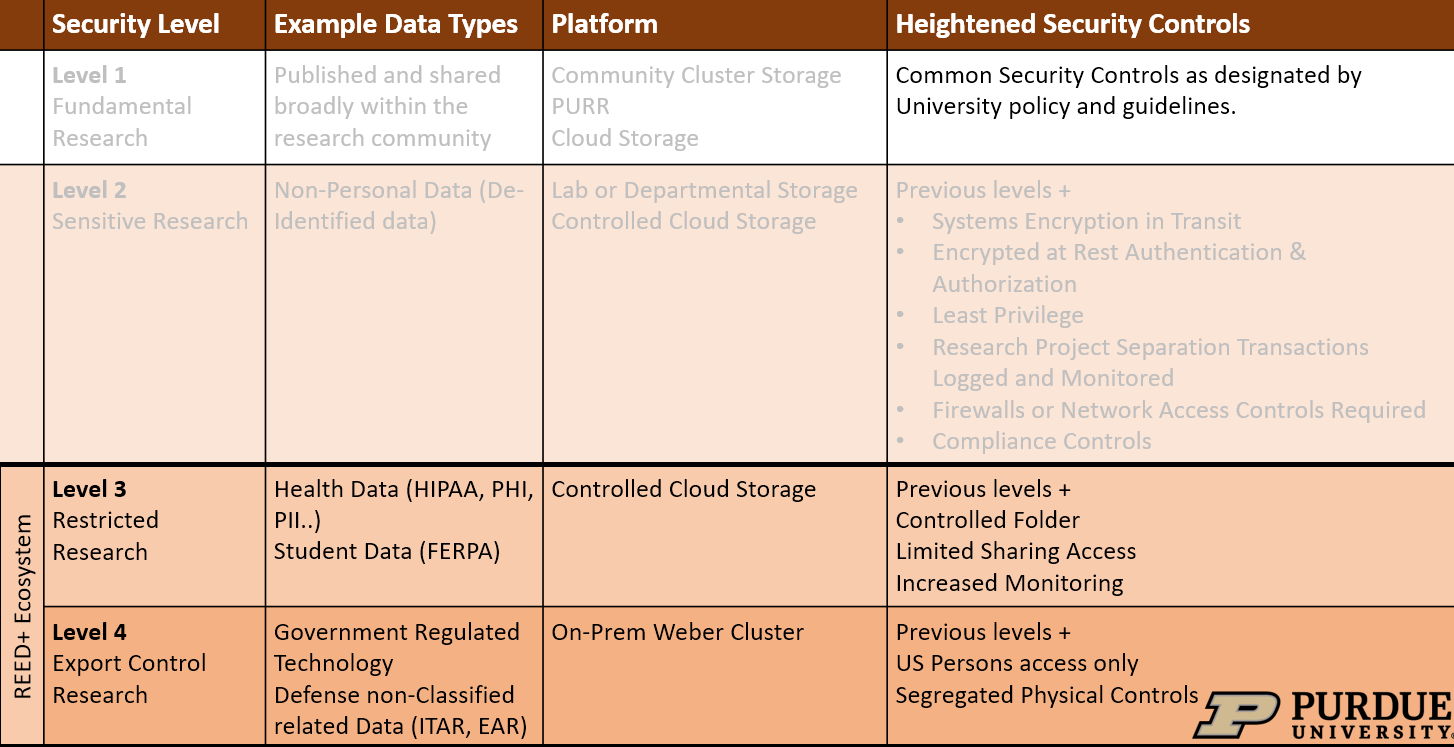 Annual Training is not Enough
Approximately three trainings per year is optimal if the messaging if slightly different each time. Training does not stick with most team members for more than a few months, so having quick, recurring training events a few times a year will help prevent mistakes. This also identifies gaps and conflicting practices sooner.
Promote Good Security Practices
Providing rewards for good security practices can be successful for promoting those practices. Incentivize reporting suspicious behavior is a good way to help keep the workspace and the project secure.
Training for Incident Response-Perform Risk Assessments
Goals
Evaluate capabilities and assess progress towards meeting capability targets.
Reach consensus on identified threats and areas for improvement and develop a set of improvements that directly assess core capability gaps
Improvements must be resolved through the implementation of concrete correction actions
Questions to ask After the Training
What went right?
What changes need to be made to plans and procedures to improve incident response?
What changes to equipment or resources are needed to improve performance
What training is needed to improve performance?
What are the top 3 lessons learned for approaching similar problems in the future?
Types of Role Based Training
Researcher Based Training:
Incident Reporting
System Usage
Technology Enforce Controls
Mobile
Data Handling
Local Policies
Where to Gain Additional Help
Export Control Staff
Insider Threats
Web Portal
Physical Exports
Data Egress
System Administrators
Regulations
Penalties
Architecture
Access
Insider Training
Expectations
Management
Insider Threats
Hiring Requirements
Incident Management
This work is supported by the National Science Foundation under Grant No. 1840043. Any opinions, recommendations, findings, or conclusions expressed are those of the author(s) and do not necessarily reflect the views of the National Science Foundation.